SDGs Design Unit
Kyushu University Faculty of Design established 'SDGs Design Unit' in April 2018,
to contribute to the field of design, for the SDGs (Sustainable Development Goals),
which the United Nations has set as a goal to be achieved by 2030.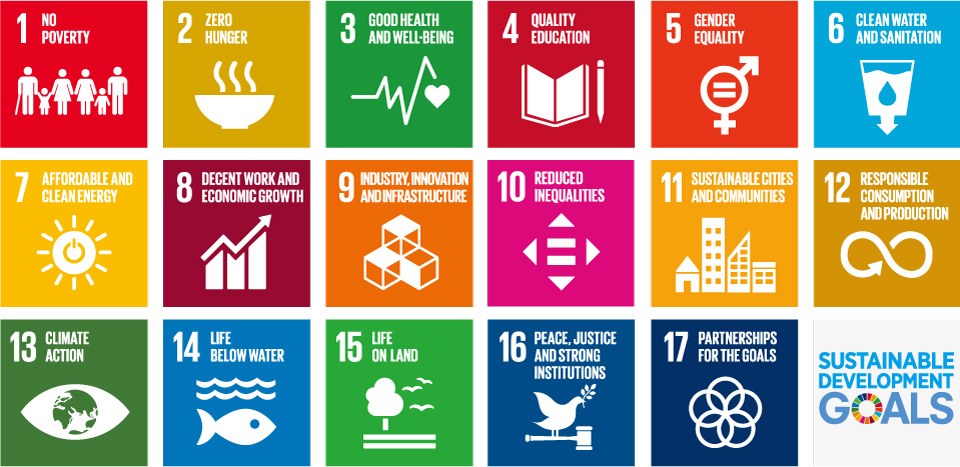 What is SDGs?
The 2030 Agenda for Sustainable Development (the 2030 Agenda) is a set of international development goals from 2016 to 2030, which was adopted by the UN Sustainable Development Summit held in September 2015 building on the success of Millennium Development Goals.
The 2030 Agenda listed "Sustainable Development Goals" consisting of 17 goals and 169 targets in order to eradicate poverty and realize a sustainable world. SDGs are universal goals applicable, not only to developing countries but also developed countries, and pledge "No One is Left Behind" through the implementation process.
Japan welcomes the historic adoption of the 2030 Agenda as a country which has consistently contributed to the formulation and negotiations of the Agenda, and will make utmost efforts to implement it with international community based on the concept of human security and the Development Cooperation Charter.(originally posted on "Ministry of Foreign Affairs of Japan.")
SDGs
in Action
dammy text. dammy text. dammy text. dammy text. dammy text. dammy text. dammy text. dammy text.
SDGs Talk
SDGs Talk, introduces the various initiatives in Japan and overseas regarding SDGs, interviewed by the SDGs design unit.
We deliver the voices of those who practice SDGs, such a workshop, goals they are aiming for, and challenges.
OPEN CONTACT FORM
SDGs Design Unit Office, Faculty of Design Kyushu University
4-9-1 Shiobaru Minami-ku Fukuoka 815-8540, Japan
TEL +81 92 553 4400
Faculty of Design Kyushu University,
SDGs Design Unit Office
4-9-1 Shiobaru Minami-ku Fukuoka 815-8540, Japan
TEL +81 92 553 4400