SDGs Design International Awards 2022
Results Announcement
Gold Award
Bus of Opportunities:
Educational Services for the Youth
Sneha Aggarwal, Shruti Chakke, Chamba Tsetan, Bhaskar Sen, and Amruta Supate
Affiliated with National Institute of Design Ahmedabad,India
The Bus of Opportunities operates in the region of Changthang in Ladakh and provides a mobile educational service every weekend. Changthang is a region with a harsh climate, so the buses are uniquely designed with wool insulation to suit these climatic conditions and operate throughout the year.
Each weekend, students board the bus and travel to different parts of Changthang to learn about their land, geographically, politically, economically, and culturally. There is a lack of awareness of the opportunities in their own community due to the frequent migration to seek better education. Therefore, the bus serves as a traveling educational medium, helping students identify problems, develop problem-solving and design thinking skills, foster entrepreneurship, and come up with an "idea bank" to develop their own land.
Trained facilitators will also be on board the bus to guide students in raising their awareness. As a result, students' curiosity will be piqued, their knowledge of their land and design perspectives will be developed, and their will to create economically and environmentally sustainable solutions for their communities will be ignited.
In addition, we envision integrating local experts into this journey. As students learn from local experts, they will have the opportunity to reflect on how Changthang's environmentally and economically sustainable technologies and ability to promote local culture and trade can be beneficial to the people of the region.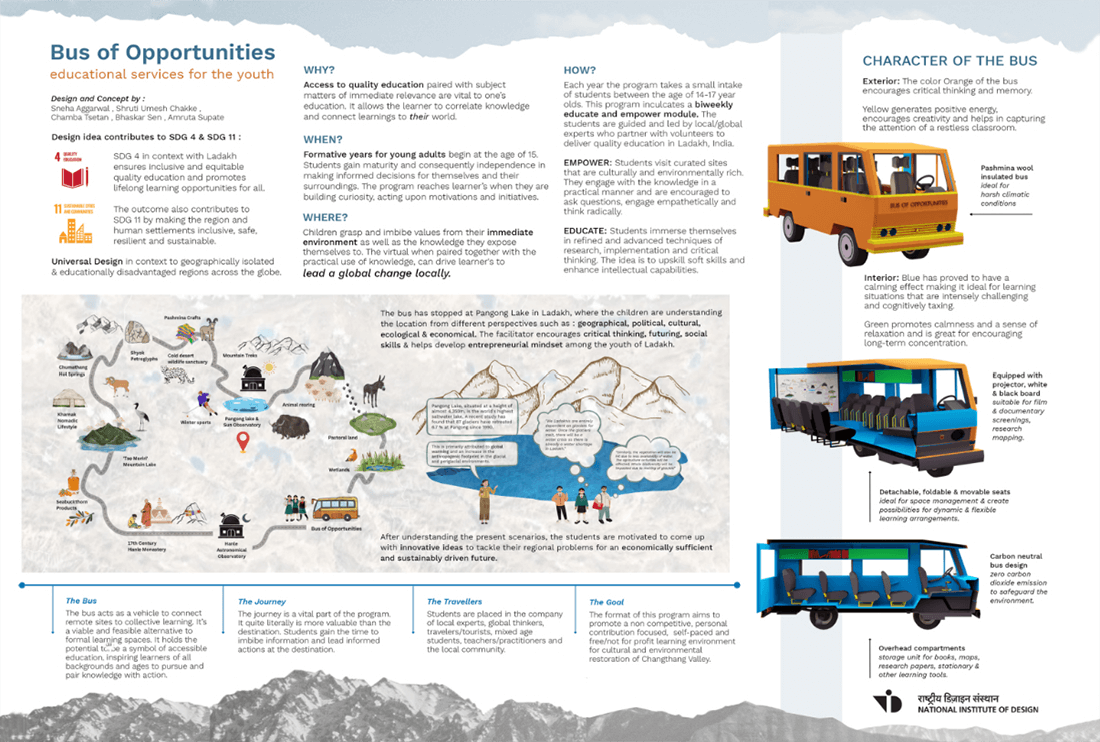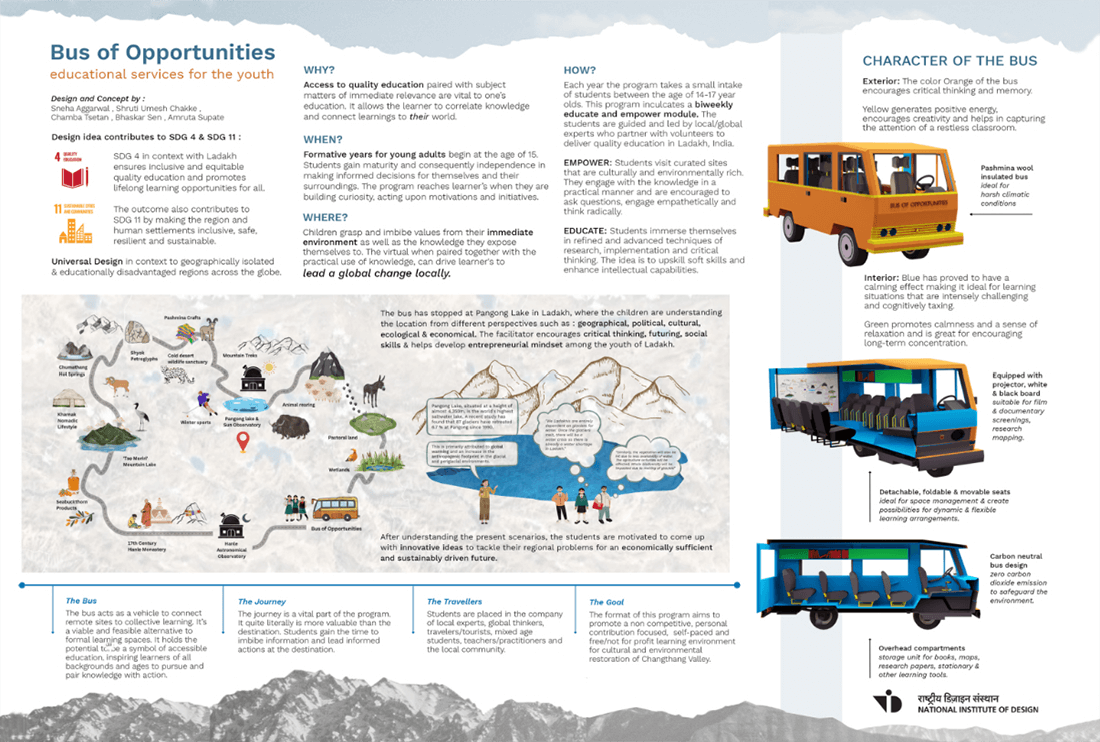 Comment from
the Jury Chair
The idea of this proposal is to actively provide educational opportunities by using buses as a means of transportation and facilitation of knowledge. In areas considered to be economically and educationally backward, the learners themselves board the bus and, together with the instructor, identify problems in the region and provide education to grasp the clues to solving them. The intention is not to provide the traditional form education per se, but rather to instill knowledge of the value of their land, resulting in prosperity and economic progress of their hometowns. Although the proposal was intended for a specific region, the jury members all agreed that using the bus as a tool was an excellent idea that is sustainable, feasible, and has a high potential for expansion to other areas so that it was worthy of the Gold Award.
Silver Award
Education Center for Urban Food Production
Jiang Jianghang and Deng Jingyi
Tokyo University of Science and Surugadai University, Japan
The "Education Center for Urban Food Production" was designed to address issues such as food safety and the disappearance of food culture in Tokyo. It is important to provide "education on food production" to urban residents, and thus this center will serve as a facility for food production and education for city dwellers. The proposed site is the site of the Faculty of Agriculture, Hongo Campus of the University of Tokyo in Bunkyo-ku, Tokyo.
The method of "education on food production" is different from the way people generally learn from technical schools or YouTube. This design focuses on providing "education on quality food production" to urban residents through spatial experience.
The "Education Center for Food Production" is formed by elements of food production space: a wet room, farmland, rainwater harvesting pavilion, dry-rolling windows for air circulation, a large chimney, and a food market. The centripetal floor plan leads people from the rooftop farmland to the interior food production and sales space. Urban residents will be educated on how to produce food by experiencing a series of actions: growing, drying, producing, and selling, all while following the "Manual of Food Production" text.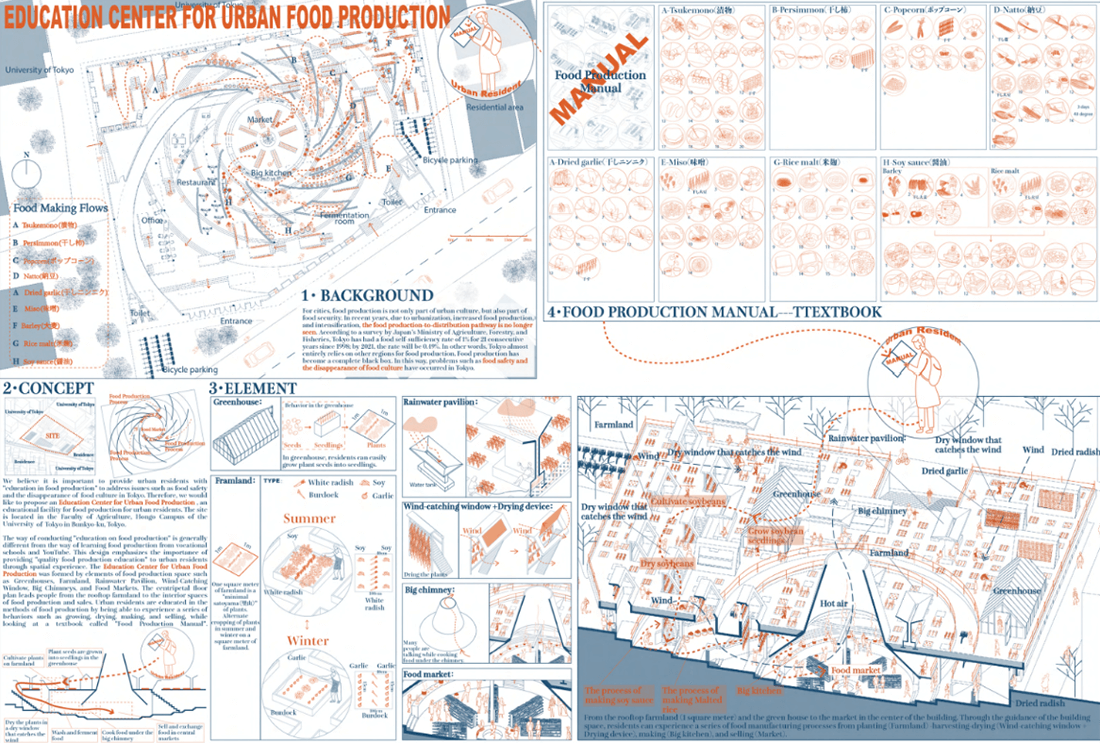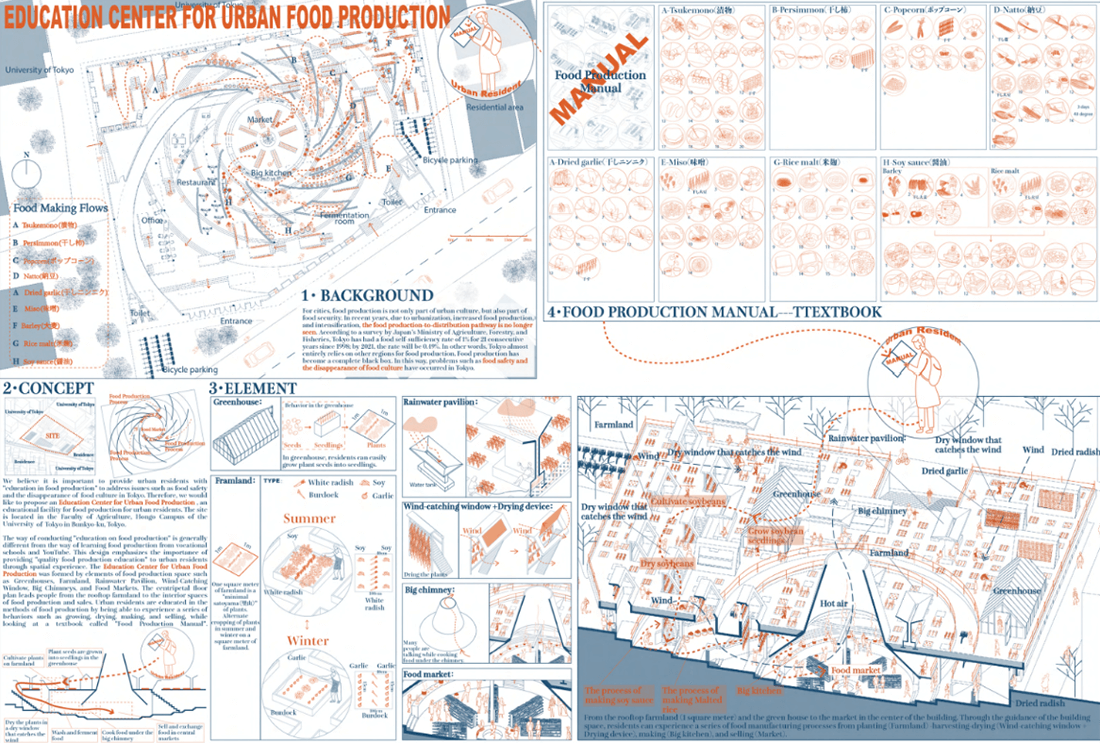 Comment from
the Jury Chair
The design of this entry is to build a large-scale food-related educational center to preserve food safety and culture. It proposes a bold concept of locating the center not in the suburbs but on a university campus in the heart of Tokyo. In the center of the facility, the space for growing vegetables, processing them, and selling them is arranged as a food production space element, with wind flow installed that is suitable for each location. The idea of a food production manual is also presented, and it is intended that visitors will be able to deepen their understanding of food by walking around the site with this manual in their hands. At first glance, it may seem like an audacious idea to construct a large-scale facility in the center of the city, but the jury panel agreed that it was a unique food education proposal deserving of the Silver Award.
Bronze Award
Safety Training in a Virtual Space
Lee Yejin and Jang Sujeong
Dongseo University, Korea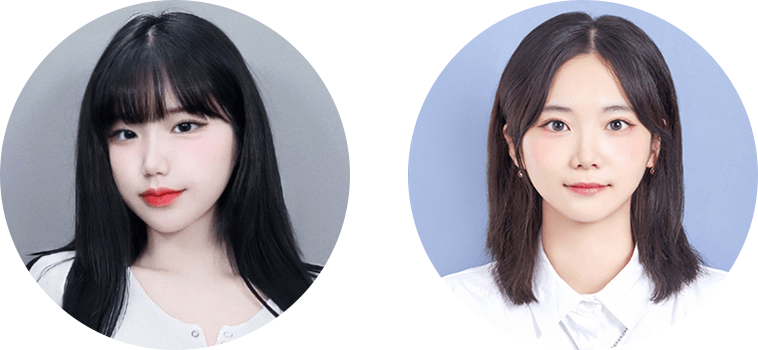 "Safety Training in a Virtual Space" functions as a disaster prevention and safety education program using the Metaverse to find ways to make safety education more interesting and more realistic, exploring ways to make learning easier for everyone around the world.
In recent years, as interest in the metaverse and augmented reality has grown, so has the related technology. Among them is a technology that allows users to enter and leave the virtual space embodied by the link without installing a separate application. It is web streaming technology; this proposal combines this technology with education. "Safety Training in Virtual Space" is an educational program that allows people to connect to a virtual space and directly experience a disaster situation, with settings in place to ensure everyone can view the training. With already existing examples of education using metaverse and augmented reality, there is confidence that this virtual safety training could be implemented.
Our safety education program provides virtual spaces that mimic everyday settings, such as the kitchen, the living room, and the street. In this virtual space, you can receive safety education with the characters "Dodo," "Happy," "Beomee," and "Chamdle. The cute animal characters will make education fun for everyone.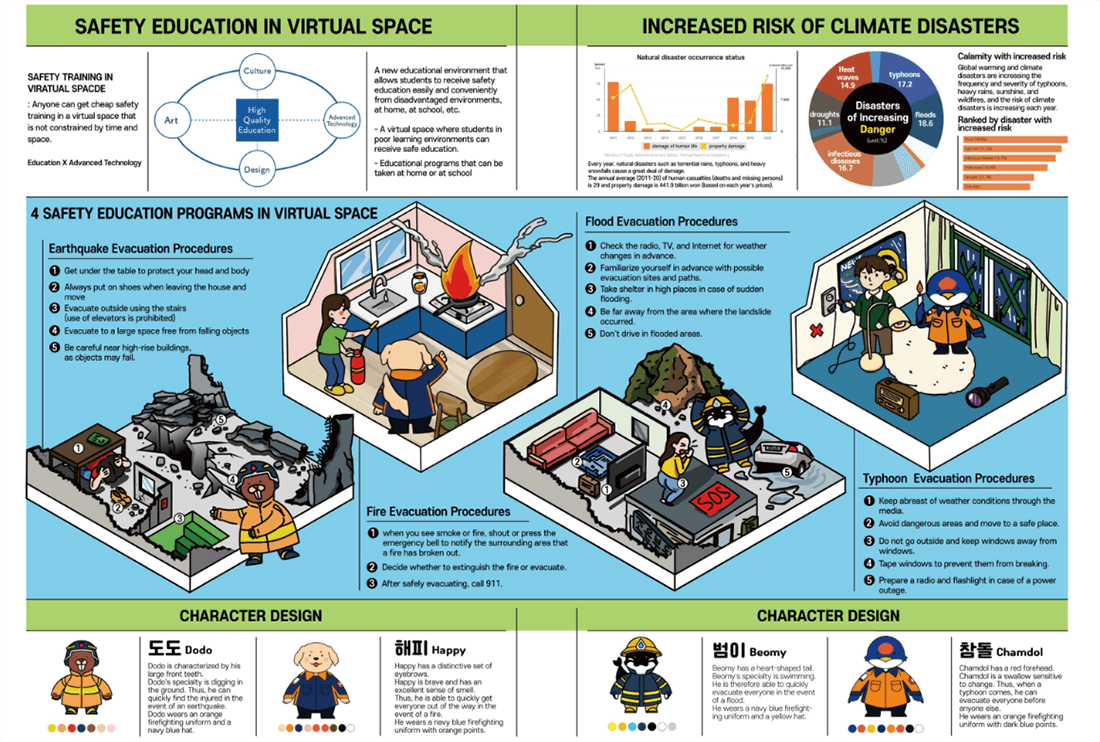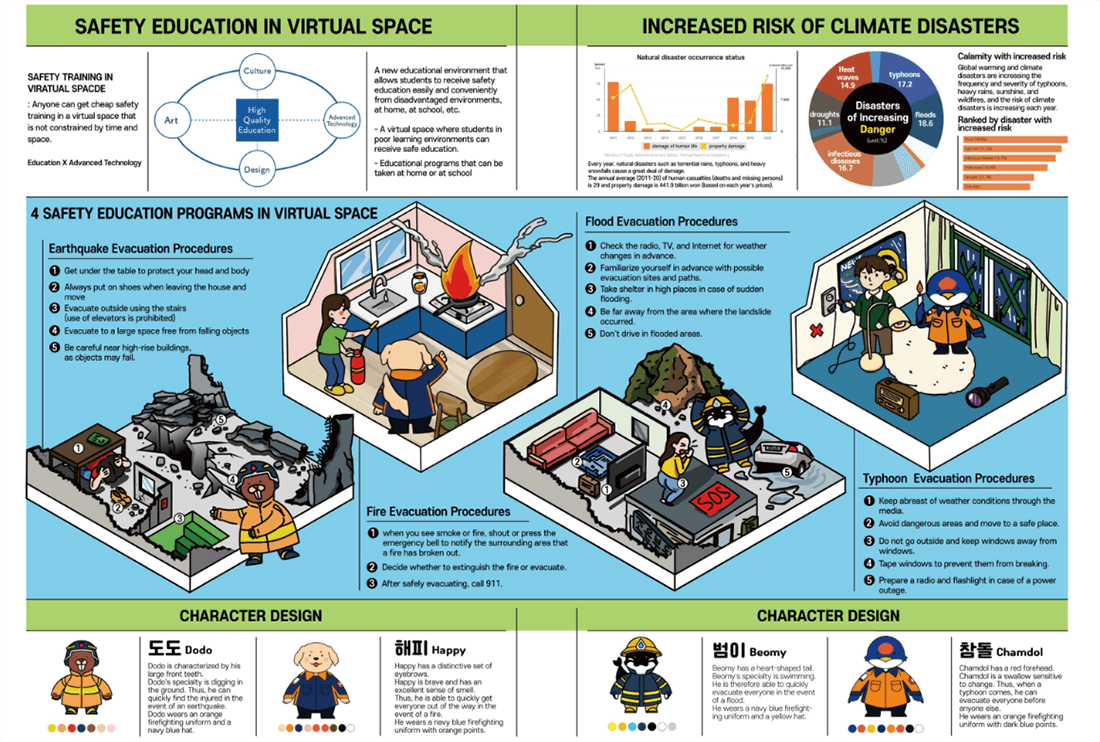 Comment from
the Jury Chair
This is a proposal for a disaster prevention and safety program using augmented reality technology. The concept of the program is to learn how to protect oneself from disasters such as earthquakes, fires, floods, and typhoons by simulating them as a form of survival training in a virtual space. In the screening process, the program's effectiveness was highly evaluated, while the pros and cons of giving children a simulated experience that might be accompanied by fear were also questioned. However, the uniqueness of the concept and its effectiveness were judged to be superior, and the proposal was given the Bronze Award.
Yuko Lucky Group Award
Art Lab for Everyone
-Creating Inclusive Learning Places Proposed
by Kyushu University Students
Aisa Yoshida, Tae Iseki, Hinako Amamoto, Yuka Eto, and Chinatu Wada
Kyushu University, Japan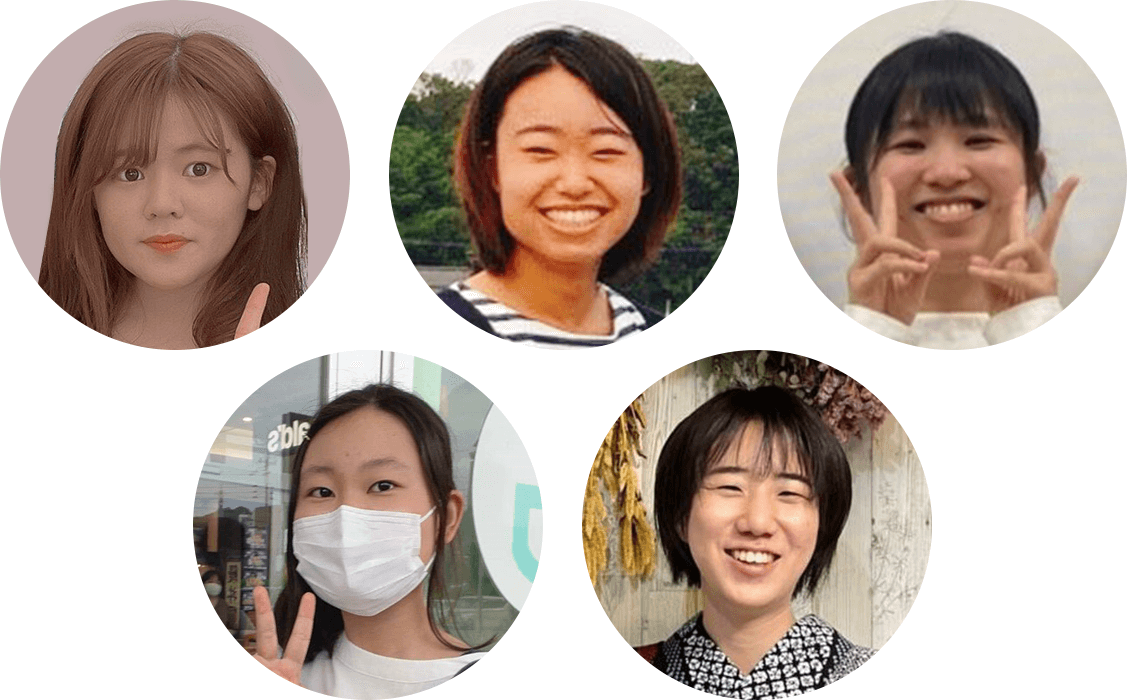 Special-needs classes in elementary and junior high schools divide students into "handicapped" and "able-bodied" groups that do not have many opportunities to interact with each other. Even though each individual is supposed to be different, we have wondered about this distinction. In recent years, efforts to realize an "inclusive society" have been promoted throughout the world, such as "inclusive education." Therefore, we have been considering what is needed to realize a truly inclusive learning environment, and as a result, we proposed the creation of a place called "Art Lab for Everyone."
When art, which does not use language, is viewed as a communication tool between people, people can discover new aspects of themselves through the experience of creating something and expressing themselves in dialogue with others. At the same time, we can learn about the good qualities of others and become aware of our differences. The purpose of this proposal is to realize mutual learning through mutual recognition and the rebuilding of relationships between people.
Specifically, we will hold workshops depicted in the design proposal, and together we will create a work using art as a common language. Since there is no language barrier, everyone can participate in this venue on the same playing field, making it a target for a variety of people, including adults. This leads to the "designing a place of learning for adults that will lead to the revitalization of the community" proposed by Yuko Incorporation.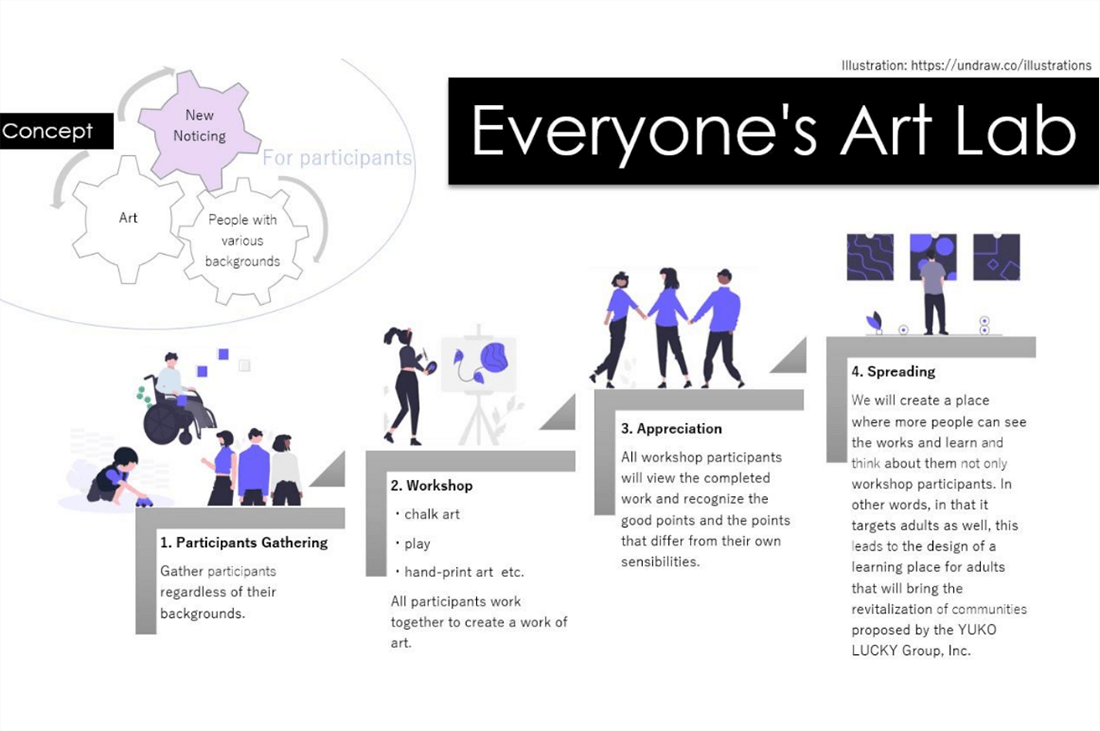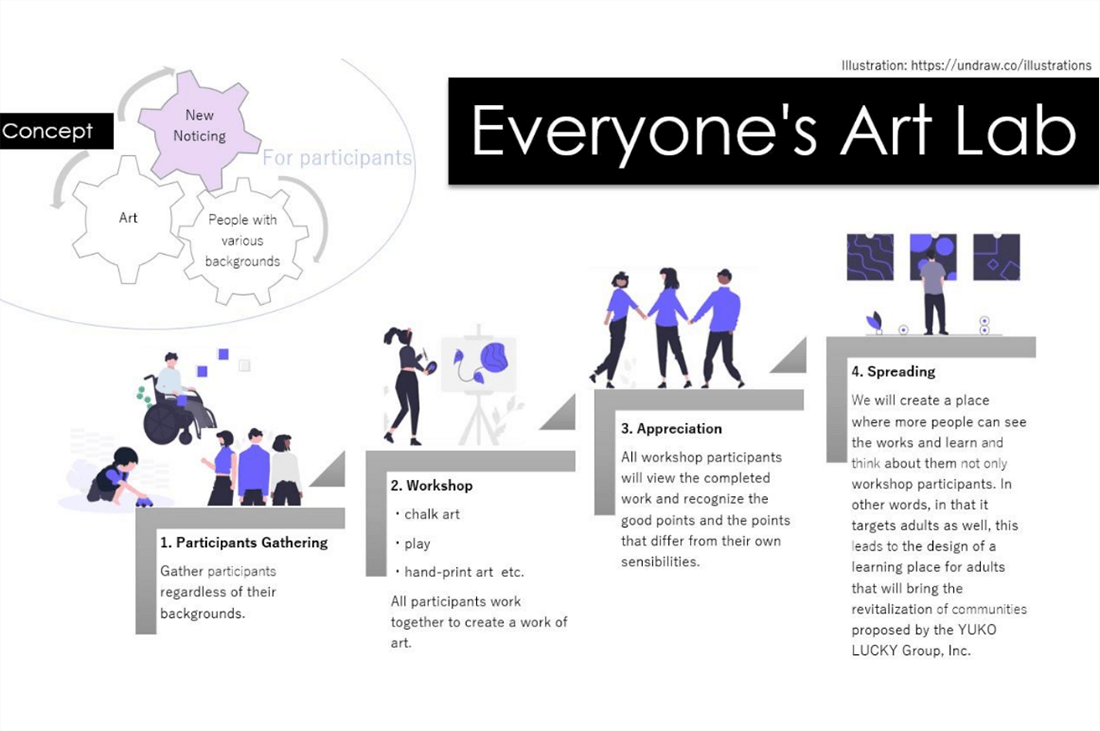 Commented by

Comment from Mr. Takuma Oshikawa, from the Group Planning Department of Yuko Incorporation
This year's winning entry was a proposal for an art lab that can include a wide range of people; from the disabled to the non-disabled, from the young to the elderly. This was an inspiring proposal because it focused on "art" as a common language for various people. In particular, it suggested holding workshops that brought together a wide range of people, with participants teaching and learning from each other, which is a fun and endearing idea. In addition, the proposal reminded us that inclusive learning spaces are educational opportunities that connect people and revitalize communities.
Marine World Award
Let's Play the Sound of Protecting the Ocean
Shou Ishikawa
International Christian University High School, Japan
As a violinist, I came up with a plan, as part of an integrated study class for first-year high school students, to solve plastic waste problem through music.
First-year high school students will be taught about the current state of plastic litter by conducting research on microplastic litter at Kyushu University, a drone survey of marine litter at Saga University, and a marine study at Marine World via an online class. Next, students will physically go to the ocean to clean up and collect plastic trash. The collected trash will be sorted into two categories: trash that can be used as fuel for power generation and trash that can be recycled. The former will be donated, and the latter will be turned into carbon fiber composite material to be used as raw material for 3D printers. At this time, a recycling class by Kyushu Gas will be held.
We will then ask the Tokyo Metropolitan Industrial Technology Research Institute to help us make violins with the 3D printers; one violin will be made for each student. Afterwards, the students will perform a violin concert, record their performance, play it at sea and at Marine World, and conduct an experimental event to see if they can attract dolphins. We will make a video of these events and advertise the record of our activities.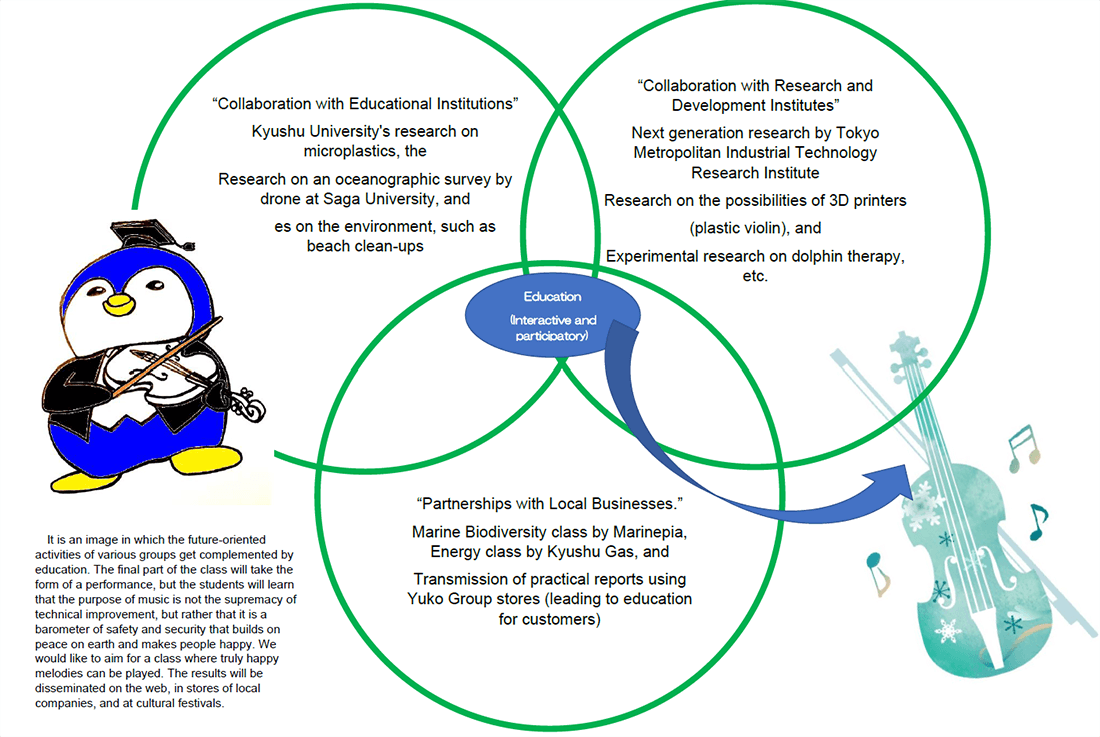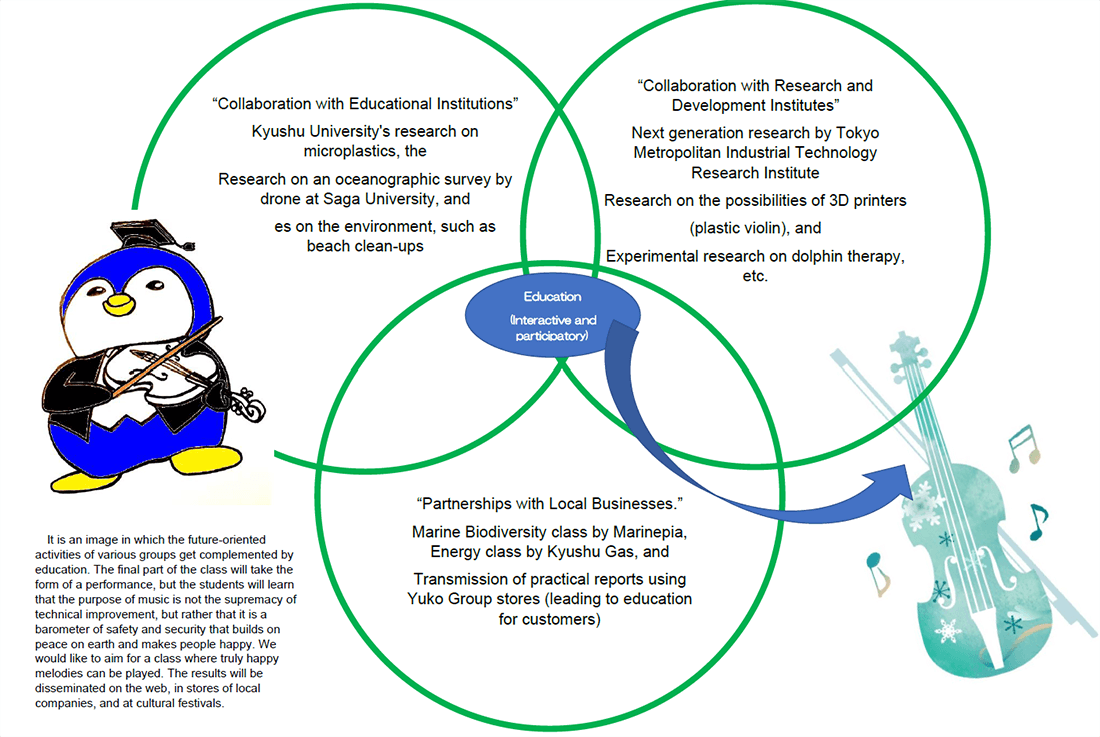 Commented by

Comment from Mr. Tomohiko Iwata, Deputy Director of Marine World, Uminonakamichi.
The winning entry is a wonderful idea that addresses the social issue of plastic waste—which tends to be individualized— and incorporates education, while integrating the activities of the parties involved in this project. It was very interesting that he integrated music for this entry, and it is expected that this approach from a seemingly unrelated field will generate curiosity. We could see the potential for further development through collaboration not only with music but also with various other fields. We also believe that education is an essential element for achieving the SDGs. We felt that this initiative will create opportunities for people to learn not only to recognize various issues and to acquire knowledge, but also to take action to improve the world for the future.
Kyushu Gas Award

My Energy Tomodachi
Sheryl Anne de Jesus and Marly Anne Lacaden
Kyushu University, Japan
As resources are being depleted, it is important to understand the impact our daily choices have on the environment. One of the most important issues we must address to achieve sustainability is energy conservation.
There are many educational resources available about energy, but they are not easily accessible and may be difficult to understand, making it hard for everyone, especially children and older people, to learn how to use energy in a responsible manner.
To ease the process of learning how to make the best energy choices, we propose an application called "My Energy Tomodachi." This app records energy usage and recommends daily energy conservation practices. Users can enter the type of equipment they are using, the energy source, and the duration of time used to see the overall energy expenditure. Users can also scan images of common household, school, or work items to see how much energy and resources it took to make the item, allowing them to make more environmentally conscious choices in the future.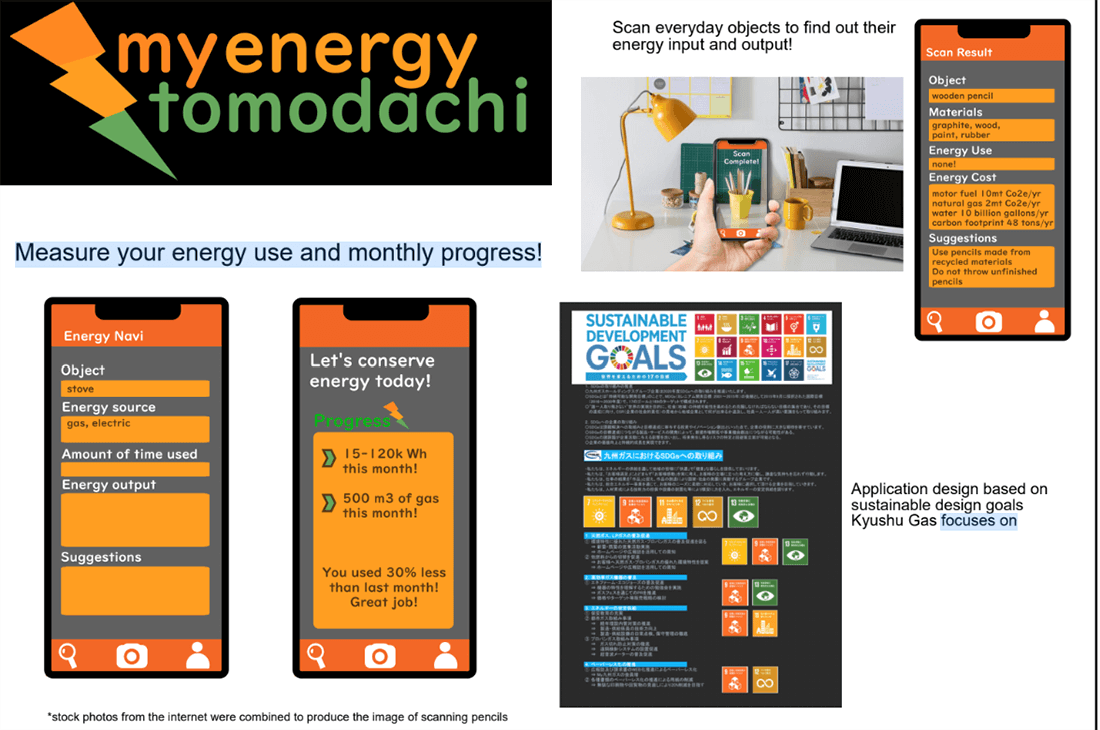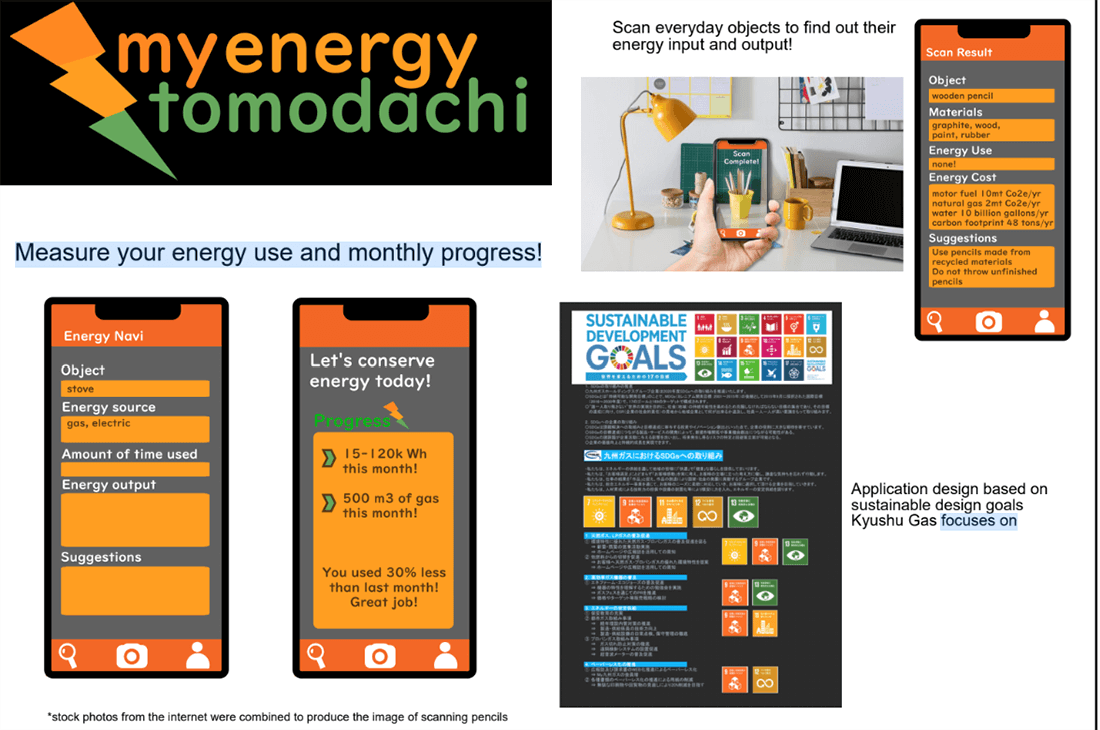 Commented by

Comment from Mr. Hiromitsu Kuribayashi, the president of Kyushu Gas Co., Ltd
We selected this My Energy Tomodachi App as the winner of the Kyushu Gas Award because it seems feasible to realize in a short period of time, it can be easily used by everyone with a smartphone, and it is quantified in a very timely and easy-to-understand manner, allowing everyone from adults to children to use energy effectively.
We felt because the app displays CO2 emissions from primary energy sources, it was good way for people to realize that we are directly addressing the SDGs. We would be happy to cooperate with this project and hope to contribute to the achievement of the SDGs around the world as a feasible application. We hope that you will continue to cooperate with us.
Special Awards
for High School Students
(3 Proposals)
First Step of Action
Non Oda
Kumamoto Prefectural Kumamoto High School, Japan
"First Step of Action" was designed to create an opportunity for people to think about the problem of marine plastic waste and to facilitate action, with the target audience ranging from elementary school students to adults who are familiar with technology.
In partnership with a local aquarium, the key point of this proposal is use VR to allow people to experience what is like for marine creatures that inhabit polluted waters, and then use SNS to make it easy for people to take the first step and say, "Let's try it." QR codes will be used at different locations to announce activities and link users to educational sites. Special offers will reward those who "take action" such cleaning the beach or doing something to help the ocean, which in turn will lead to publicity for the aquarium. By providing the opportunity for hands-on education, it is possible to spread knowledge from children to adults about the condition of our ocean.
Comment from
the Jury Chair
This is a proposal for a system that simulates the perspective of creatures suffering from plastic waste in the ocean. The purpose is to bring awareness of debris and other pollutants in our oceans through a virtual first-hand experience, which would encourage people to take the first step, as the title suggests, toward dealing with the problem. Education about the ocean would also be provided with a quiz-style learning function on SNS. The idea was highly evaluated for its effectiveness and feasibility in using cell phones and other devices.
Let's Play the Sound of Protecting the Ocean
Shou Ishikawa
International Christian University High School, Japan
Tora Café
Karen Hatta, Chisato Ishida, Misato Matsuda
Shiga Prefectural Torahime High School, Japan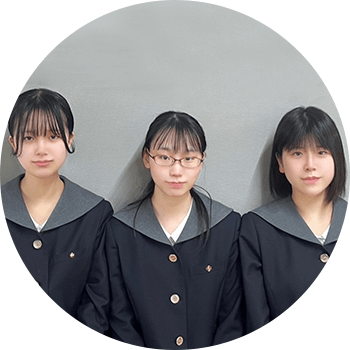 The Tora Café we are proposing this time was inspired by expanding on the activities of our current Pink Mask Day Executive Committee, which was modeled after Pink Shirt Day, a movement against bullying that originated in Canada. One of our committee goals is to promote respect for diversity in education, as well as to create community development through education, such as having tie-ups with local businesses. This proposal addresses what kind of system we need to build to realize our philosophy of "respecting diversity in the community and revitalizing the local community."
Looking at Nagahama City in Shiga Prefecture where our school is located, the population of senior citizens is increasing, and preventing the elderly from becoming isolated has become an important issue. In addition, looking at education, which is an issue close to home for us high school students, there exist various problems such as poverty, abuse, and bullying. The problems in the community and the problems in education may seem completely different, but with the Tora Café, we hope to solve both problems. Tora Café is a design for the shape of education in the near future.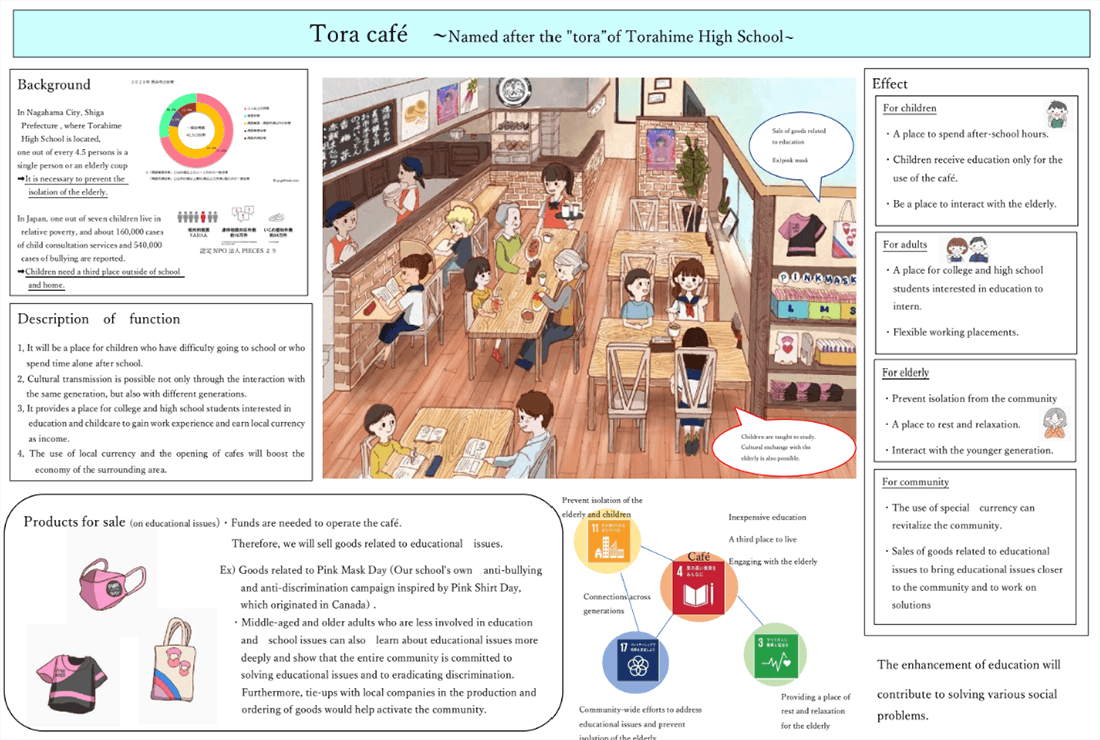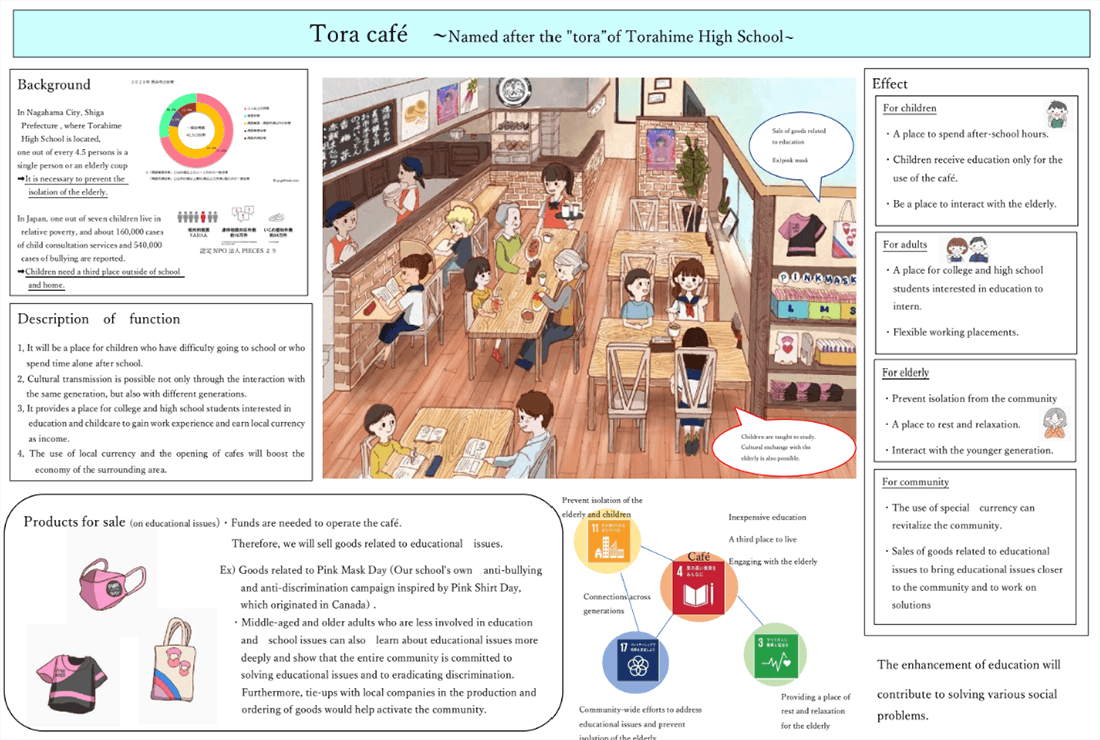 Comment from
the Jury Chair
Based on the firm concept of "respecting diversity and revitalizing the community," the idea behind this entry is to provide a "place" where everyone, from children to the elderly, can gather and solve educational concerns together. The cafe is envisioned to function as a safe place for learning and is an ambitious proposal that addresses both local community and educational issues. Although it is intended for a specific area, Nagahama City, Shiga Prefecture, the proposal was deemed to have great potential for generalization and realization.