SDGs Design International Awards 2021
Results Announcement
On October 16, 2021, the Award Ceremony for the SDGs Design International Awards 2021 was held online.
This year, we called for design proposals that aim to achieve "carbon neutrality", which means reducing greenhouse gas emissions to virtually zero. The theme was "Let's Create a Carbon-Neutral Society. ~Think big, Start small, Move fast~".
This theme is one of the major global issues, and we received many submissions from students worldwide.
On the Award Ceremony day, the eight prize-winning groups presented their design proposal filled with enthusiasm and young sensibilities.
As a result of rigorous screening processes, each award was decided. Here are the winning design proposal and the comments from the judges.
Theme
Let's Create a Carbon-Neutral Society.
Think big, Start small, Move fast
The world is counting down to the realization of "carbon neutrality," the goal of reducing greenhouse gas emissions to virtually zero. Various challenges are being taken on around the world. The scope of these challenges is expanding to include the environment, cities, architecture, products, communication, services, and social systems surrounding our daily lives, and design is needed in every aspect. The theme of this year's SDGs Design International Awards, now in its third year, is "Let`s Create a Carbon-Neutral Society.". We are calling for creative ideas from all over the world to address the world`s most urgent mission. Multiple entries are also welcomed.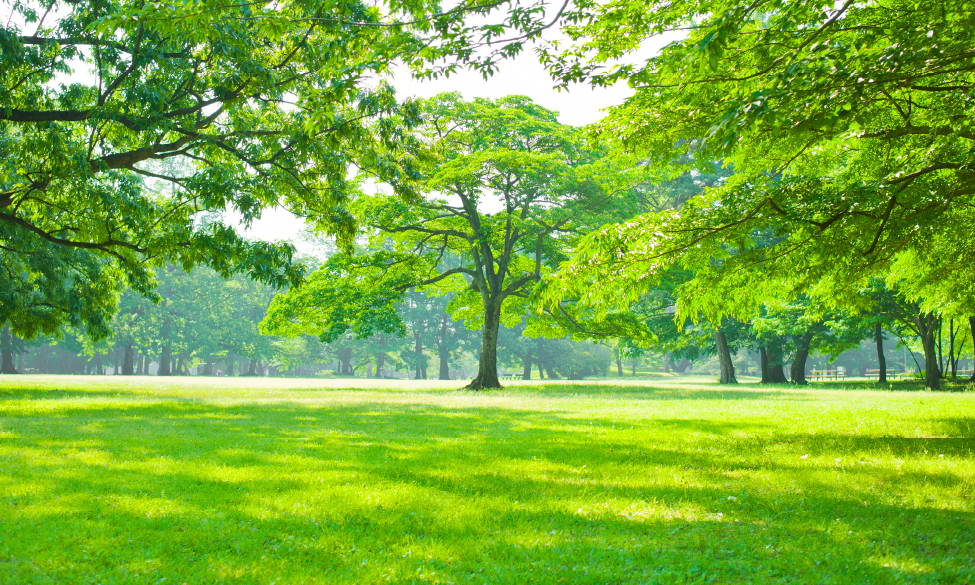 Think big


Design a Carbon-Neutral City
We live in a variety of environments and systems every day. The map below is a mapping of related words. For example, what would a carbon-neutral city look like based on the concept of "carbon neutral x transportation (cities and infrastructure)"? Using the map as a hint, please add words, find new connections, and develop ideas for realizing the carbon-neutral city you want to see in the future.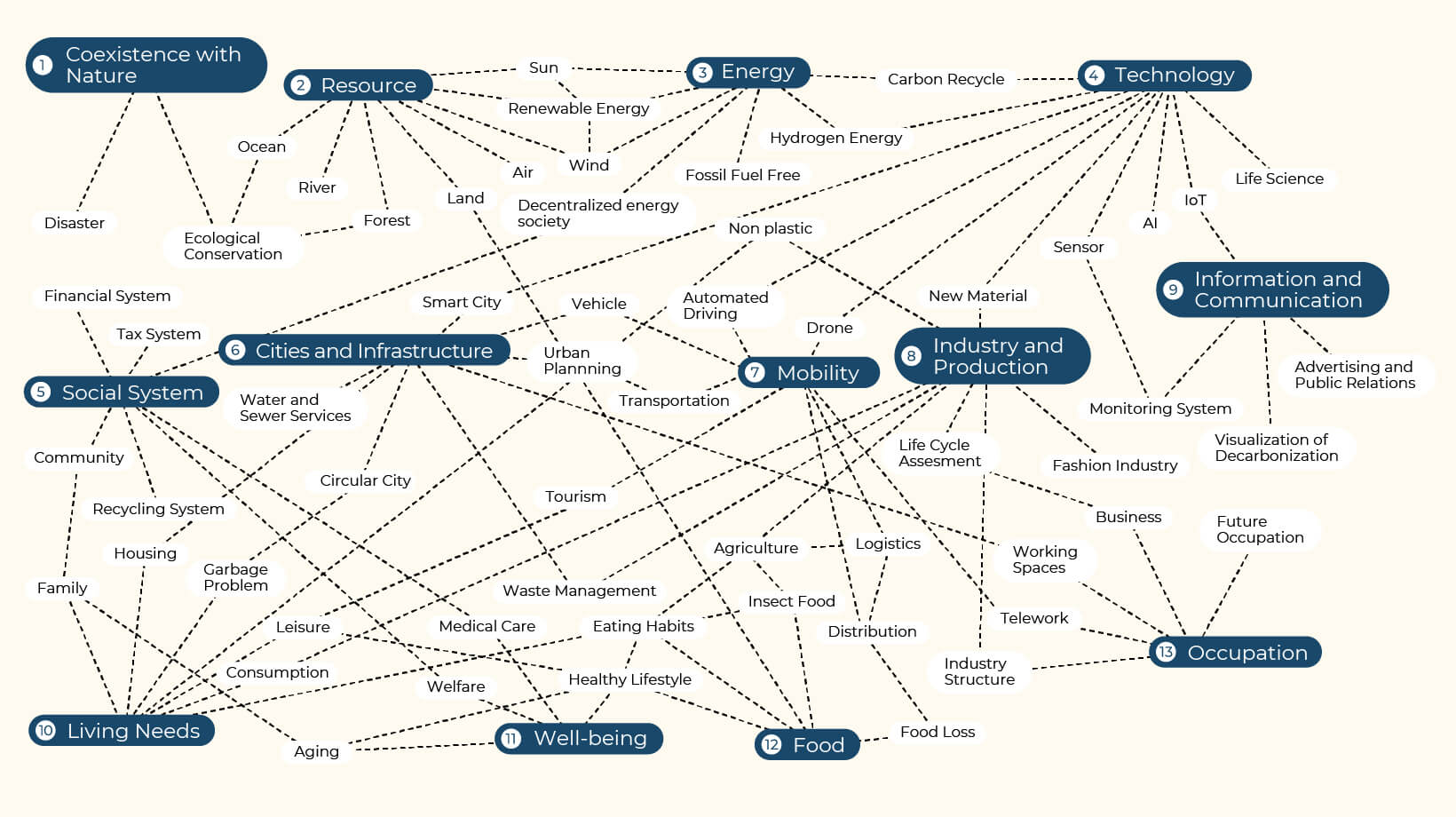 (1)Coexistence with Nature (2)Resource (3)Energy (4)Technology (5)Social System (6)Cities and Infrastructure (7)Mobility (8)Industry and Production (9)Information and Communication (10)Living Needs (11)Well-being (12)Food (13)Occupation
Please choose one word or phrase from the list above ①-⑬ to use as
the trigger to find new connections
Start small


Design a Carbon-Neutral Lifestyle
The accumulation of small actions will create the carbon-neutral society of the future. What kind of suggestions would you give people close to you to help them change their mindset and take action toward carbon neutrality? Please choose one topic from the following list and develop your proposal.
Toyota Motor Kyushu Award

UX design allows everyone to enjoy knowing and learning
"How can we not emit CO2?".

Toyota is developing a variety of environmentally friendly vehicles, including hydrogen vehicles. However, no matter how much environmental technology advances, we believe that we can only contribute to the environment if our products are chosen and popularized by consumers. We want everyone to know what it means to create a carbon-neutral society, learn about it, and act on it. In order to do so, it is important that everyone, as consumers, can enjoy learning that a carbon-neutral society is a good thing. It should not be a forced education. We should use a more sustainable approach by providing people with the opportunity to learn and have fun while they learn. We can design the space, content and UX.
Please design a learning opportunity that will change each individual's behaviour to achieve a carbon-neutral society.

PIETRO Award

Ideas on carbon-neutrality that can be fun and done through "food" at home. 

"You are what you eat." Do you know this saying? Food is an essential part of human life, both for the body and the mind.
It would be wonderful if what we eat and what we can do for the planet through our food could positively impact your generation, the next generation, and future generations.
Last year, at Pietro's 40th anniversary, we set out our vision for 2030 under the theme of "Your Happiness, Our Happiness". We will continue to do what we can to make our customers happy, society happy, and our employees happy, and this will lead to happiness.
We would like to hear from you, the younger generation, with your fresh and lively ideas on the theme of "carbon neutrality that can be fun and done through "food" at home". 

Kyushu Mirai Construction Group Award

Design on sustainable buildings through resource circulation such as materials and energy.

The happiness of the community is our happiness. Therefore, it is the mission of the Kyushu Mirai Construction Group to shape the happiness of the community's future.
We believe that for the future happiness of local communities, it is necessary to create buildings that can be used for a long time through using resource circulation such as materials and energy. We are looking for ideas for this purpose. The ideas are not limited to the design of the building itself. You can look into using materials and energy that can be used repeatedly and how to continue using the building with care. We are looking forward to your ideas!

Kyushu University Negative Emission Technology Award

Design a useful and sustainable product that incorporates
the technology of converting air into energy.

The goal of Kyushu University is to create the Direct Air Capture and Utilization (DAC-U) system. This device concentrates carbon dioxide (CO2) from the atmosphere like an air filter using extremely thin separation membranes and converts it into various useful substances for daily use. This newly developed system is expected to be small and can be installed anywhere. Japan is a country with few natural resources, however, suppose we can create the necessary amount of carbon resources in the required places, using the atmosphere as a source. In that case, this will lead to constructing a carbon cycle society (energy society) with local production for local consumption.
Can you design a product that incorporates this technology with a useful and sustainable application? Please give detail of the design, including the scenario of how it is used.
Awards
All award winners will receive a certificate.
Design a Carbon-Neutral City
Gold Award

300,000 yen

Silver Award

100,000 yen

Bronze Award

50,000 yen
Design a Carbon-Neutral Lifestyle
Corporate Awards / University Award
50,000 yen each
The companies that agree with the purpose of the SDGs Design International Awards and are proactive about the SDGs and Kyushu University will provide these awards. From among the entries, we will select based on the evaluation from the companies and the university.
Special Award(s) for High School Students
Certificate of Merits
(Including Special Online Campus Tour by Kyushu University)
Special award(s) for high school students will be given to the best design proposal(s) submitted.
Judges
[ Jury Chair ]

Minako Ikeda

Kyushu University Faculty of Design
Associate Professor

[ Judging Panel ]

Shigenori FUJIKAWA, Ph.D., Distinguished Professor

International Institute for Carbon-Neutral Energy Research, Kyushu University

Research Center for Negative Emissions Technologies, Kyushu University

[ Judging Panel ]

Kyoko Matsuoka
Architect

Principal of Spinglass Architects Inc.

[ Judging Panel ]

Praveen Nahar

Director of the National Institute of Design(NID)

[ Judging Panel ]

Andreas Schneider

IIDj, Institute for Information Design Partner

[ Judging Panel ]

Ryo Yamazaki

CEO of studio-L. Professor of the School of Architecture at Kwansei Gakuin University.
Community designer.
Social worker.
Gold Award
Rejuvenating the Edge
Taorem Rahul Singha
(Bangladesh University of Engineering & Technology)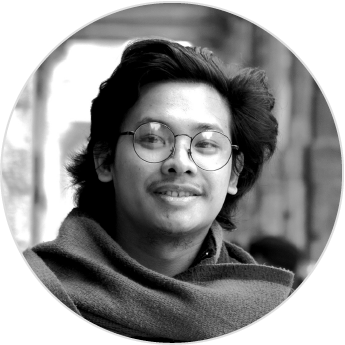 Dhaka, the capital of Bangladesh, is one of the fastest megacities growing globally, with a population of 20 million. As the city grows, it stretches towards the periphery, dominating the wetlands, which has a significant capacity to store carbon. Unplanned filling, illegal encroachment and disposal of waste are some of the reasons before the degradation of the wetlands. Due to negligence, the city is increasing its carbon footprint, becoming unhabitable and vulnerable to many climate catastrophes. Thus, this situation calls for a cohesive design framework to establish a sensitive urban development & planning to reintroduce nature to the city fabric, forwarding towards Carbon neutrality. The design framework aims to demonstrate a carbon-neutral city by initiating a coexistence between urban sprawl & wetland ecology that acts as a trigger point to connect with many carbon minimizing parameters. The initial target group of this framework is considered the immediate surrounding communities of wetland areas. But the impact of this design idea will involve the entire citizens through creating awareness & guidelines on sensitive use of the natural resources. Wetlands have a remarkable capacity to sequester carbon through storing them in vegetation above ground and underground, in sediment beneath live plants. The design idea involves conservation & gradual construction of wetlands with natural filtration of polluted water, floating agriculture for the farming communities, ecological preservation of the island, amphibian structures as public space, production of electricity through using waste, floating plants with electrodes, water-based transportation & affordable housing with symbiotic measurements, including food production at home. This extensive framework allows people to participate, act & achieve the aim within the context of their own culture & landscape. Thus, the idea rejuvenates the edge of urbanization & utilization of natural resources to grow Dhaka as a Carbon Neutral City.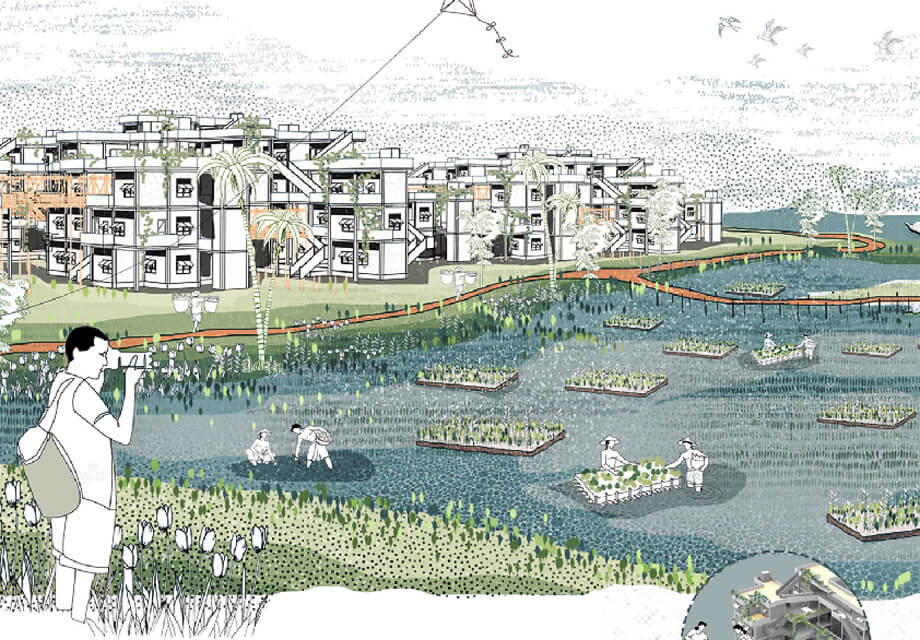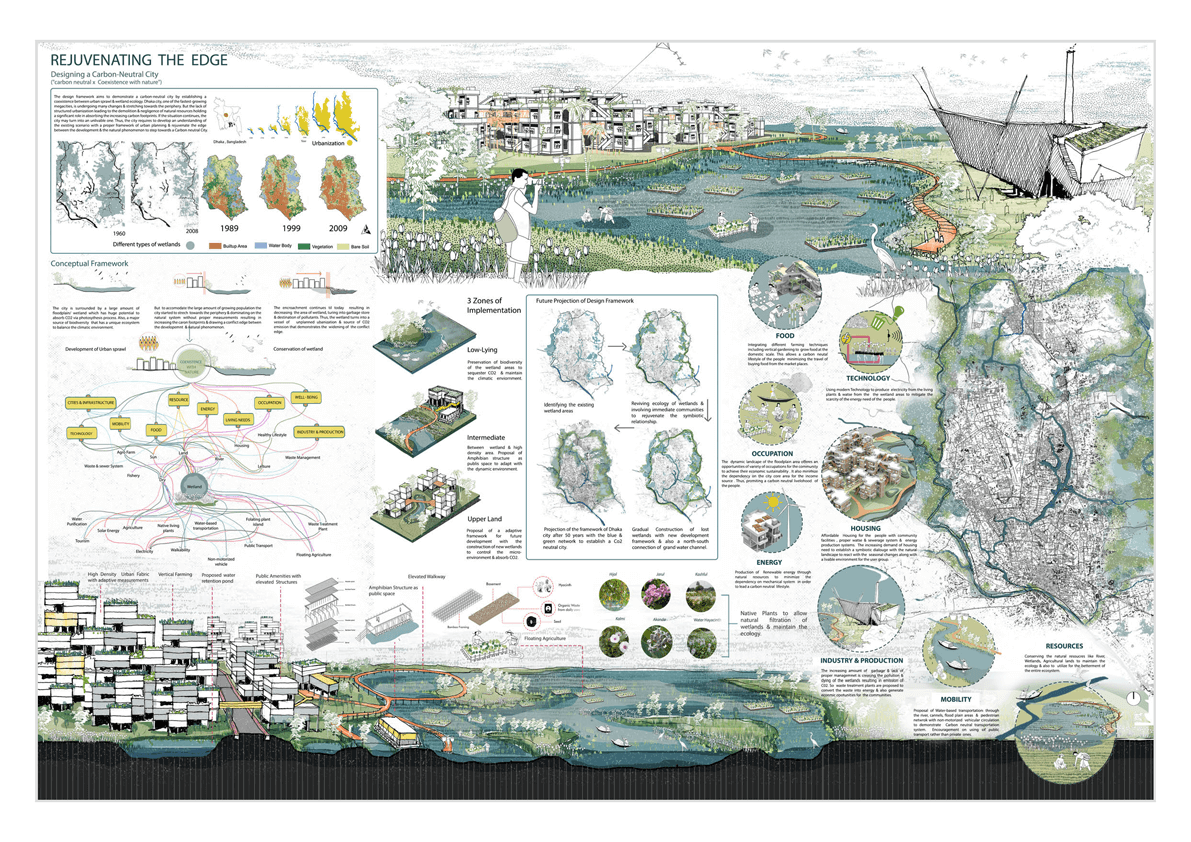 Commented by

Associate Professor
Minako Ikeda, Jury Chair,
Kyushu University
He has designed an urban planning framework to bring nature back into the urban structure from a bird's eye view of how uncontrolled sprawl and urban development prevent the coexistence of nature and the city, which is increasing carbon dioxide emissions. By making good use of Dhaka's topographical features and focusing on the inherent beauty of its landscape, the project not only solves the problem of carbon neutrality but also creates an attractive idea that enhances the value of the city. Furthermore, the proposal based on a precise definition of the problem and detailed research is dynamic and persuasive. Although there were comments in the judges' discussions that the proposal did not present a concrete design proposal, the excellent design framework and guidelines proposed would serve as the basis for concrete designs in the future, and the positive influence of the proposal was deemed worthy of the Gold Award.
Silver Award
Data Center Energy Recovery Program
Nie Qijun
(Royal College of Art)
Since 2014, the Chinese government has been working with the Alibaba group on the Guizhou-cloud project to harness local climate and hydropower resources to build clusters of data centres. Guizhou's caves are a natural refuge for servers due to their low temperature, high humidity and secrecy, which has led many technology companies such as Tencent, Huawei and Apple to move their data centres to the caves. In addition, Guizhou's economic structure is dominated by tourism and farming, while educational resources are very poor, and most children do not have access to higher education. Hence, this project aims to address the issue of harmony between the local people, the natural ecology and the data centres.
Data centres consume a large amount of coal for power generation, among which the most power consumption is the air conditioning used to cool the servers. This idea proposed to use the abundant water resources in the area to cool the servers instead of air-conditioning. It then recycles the waste heat generated by the servers to heat a new tropical park, which is not seen in Guizhou because of its cold climate. Thus, attracting tourists. This tropical park can serve as an educational site for the children by learning how information works and how energy is reused through glass panels in the data centre.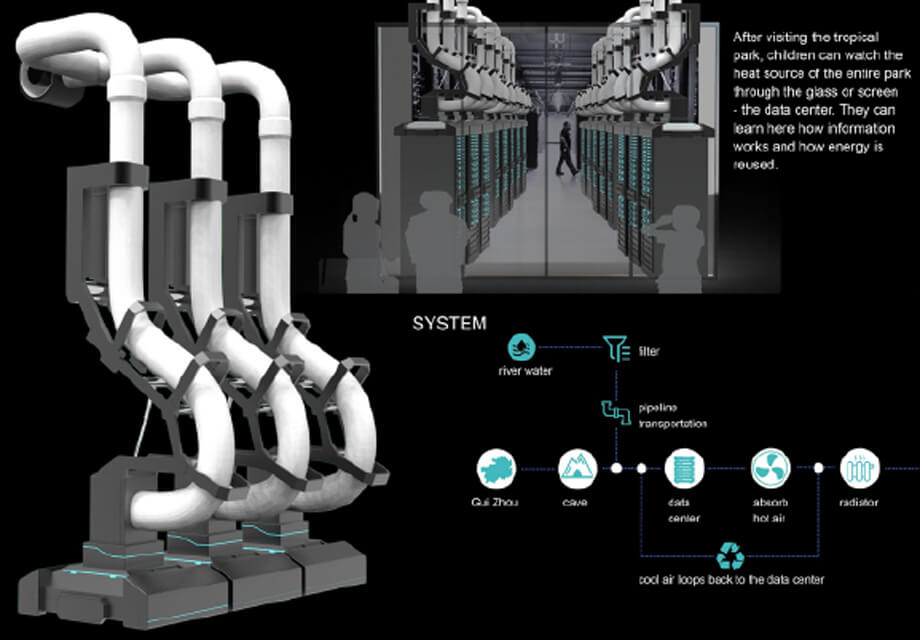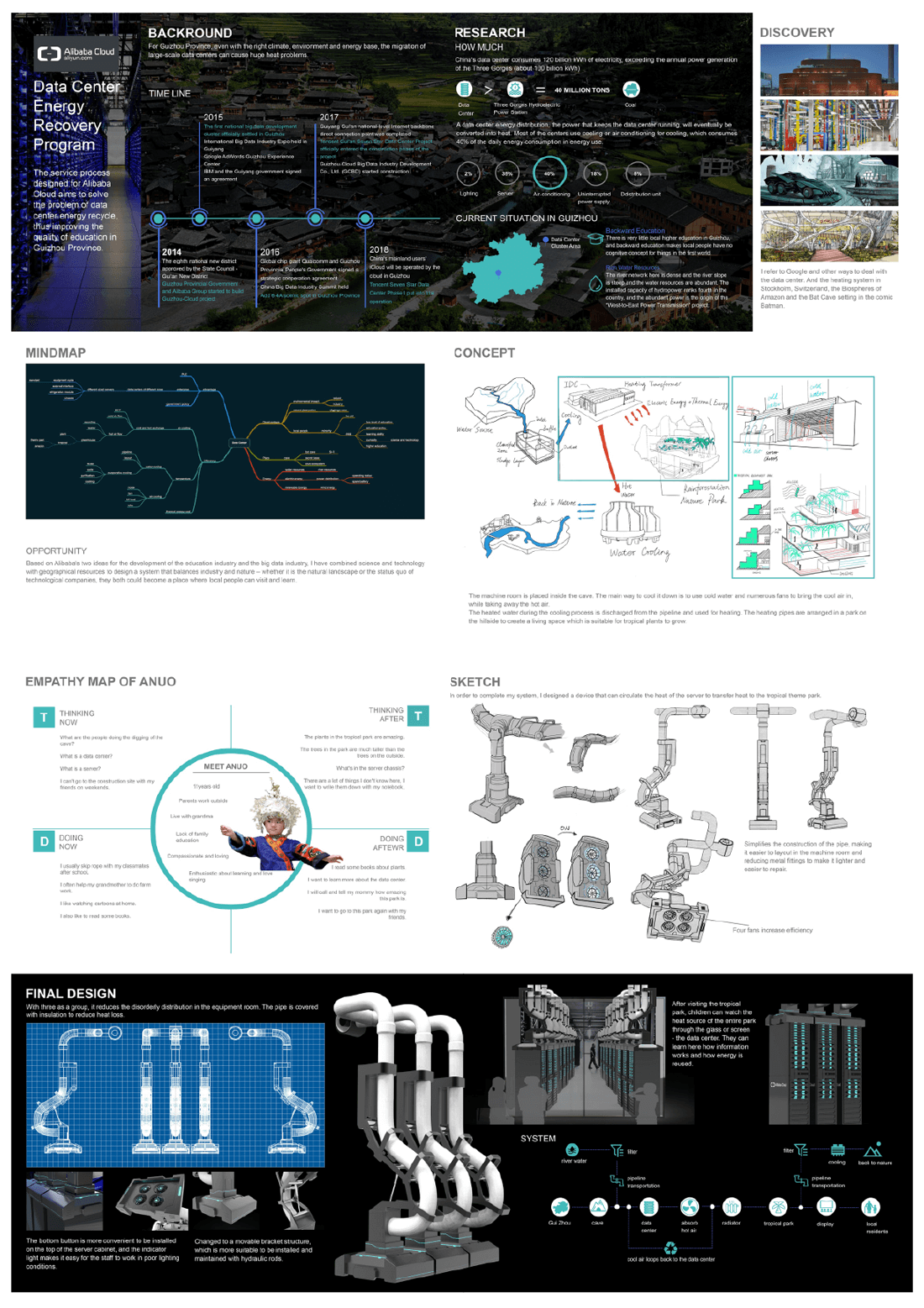 Commented by

Associate Professor
Minako Ikeda, Jury Chair,
Kyushu University
In the modern era of global digitalization and further accelerated by COVID-19, the rapid growth of data centers has created a vicious circle in which a lot of energy is consumed to cool the radiant heat of the huge number of servers, which in turn affects carbon dioxide emissions. This proposal for Guizhou Province in China is an effective idea that approaches multiple social issues: solving this vicious cycle and at the same time contributing to the revitalization of a region that has lagged in economic development. While using the natural resource of water to cool the servers, the waste heat is used to heat the adjacent tropical park, providing an opportunity for local children with limited educational opportunities to experience the tropical climate and learn about the mechanism of energy circulation. This is an excellent proposal that suggests the possibility of creating educational opportunities and as a tourism resource.
Bronze Award
Accum. Land
Bian Yihan,Chen Lianyi,Chu Lijun and Liu Chunchen
(Royal College of Art)
By establishing sustainable and carbon-neutral accum Land in cities, our group aims to solve the problem of greenhouse gas emissions caused by e-waste recycling and get more people involved and pay attention to the environmental problems and greenhouse gas emissions caused by e-waste. During the lockdown, people began to rely more on the Internet for work and study. Therefore, many companies must provide better services and update their electronic hardware to support society.
More and more e-waste is being produced. However, the recycling rate of e-waste in China is extremely low, and most of it will be directly buried because of improper disposal. This causes a lot of pollution to the local land, which in the long term, can have a negative impact on the health of the local people. Therefore, accum land is designed. The land polluted by e-waste is optimized by planting plants of hyper-accumulator. The rare metals in the land can be extracted from the harvested plants. These metals can be recycled and reused. Hence, slowing down the consumption of rare metals. In the accum land, three-dimensional planting is used to improve the efficiency of phytoremediation and extraction of contaminated metals. It also helps to repair the soil. The plants can be reused as panels for the accum land and make into figures. In addition, we need to engage people of all ages and areas in a carbon-neutral approach to e-waste recycling through shared labs, regular workshops and apps.
Commented by

Associate Professor
Minako Ikeda, Jury Chair,
Kyushu University
With the emergence of COVID-19, people's lives have rapidly become dependent on the Internet. The daily development of technology has led to the consumption and disposal of a large amount of electronic equipment, causing soil pollution and greenhouse gas emissions from recycling. This proposal is a novel idea to solve this problem by utilizing the power of plants to remove or detoxify pollutants from the soil. The careful research behind the proposal, including visits to relevant research institutes and researchers searching for technical evidence, was also highly evaluated. In addition to solving the problem of soil pollution, the design is also excellent. It creates a virtuous cycle of increasing the green space in the city by planting plants, creating a place for people to relax, and reducing energy efficiency and carbon dioxide emissions.
Toyota Motor Kyushu Award
Antarctic Ecology Alerts
Cao Hao
(Tianjin Polytechnic University)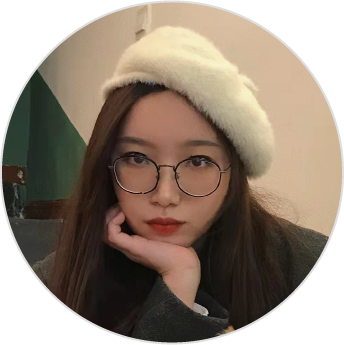 This project is a series of research and reflection about the phenomenon of the Antarctic snow algae outbreak in 2020. The Antarctic ecological environment has been irreversibly changed by human interference. I will present this change to people living far away from the city in this project's installation, hoping that it will change the viewers' thinking and action.
From the user interviews and research, most of the viewers' first feelings about the phenomenon of snow algae bloom in Antarctica are negative, worrying and abnormal. They also think that it looks beautiful. As the Antarctic is far away from us, people feel a sense of distance and indirectness between the phenomenon and the viewer. Also, the negative impact on the animals at the North and South Poles leaves a deep impression on people.
The installation is designed to take a real-time interactive approach to show the damage that carbon dioxide causes to the natural environment by looking at the phenomenon of blood coat algae in Antarctica and the damage it causes to Antarctic animals such as penguins.
In the installation, touchdesigner and arduino are used to help reflect the carbon dioxide exhaled by the viewer in real-time, integrating the space of Antarctica, the victimized animals, and the blood-clad algae overpopulated by human behaviours, hoping to bring the message and warnings to viewers.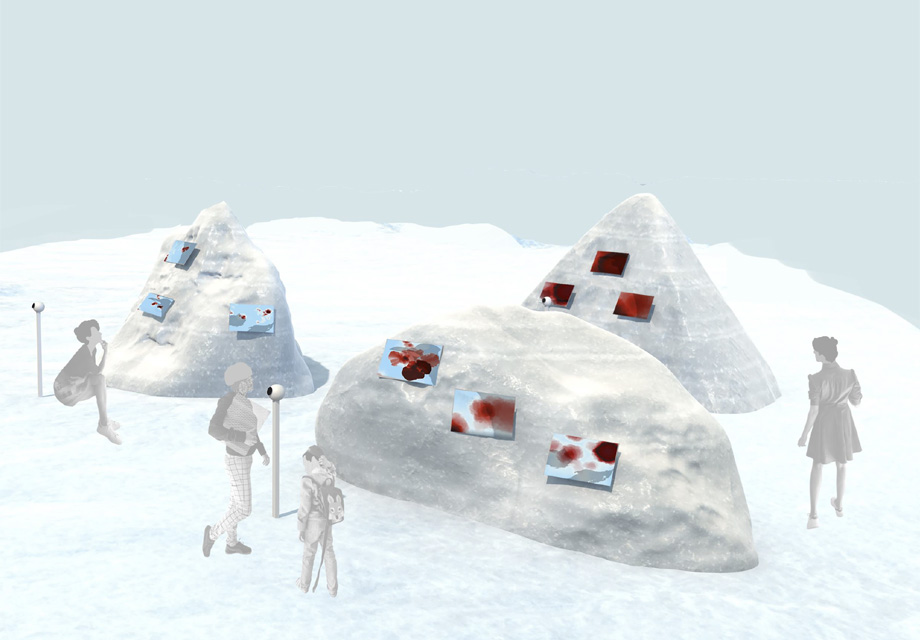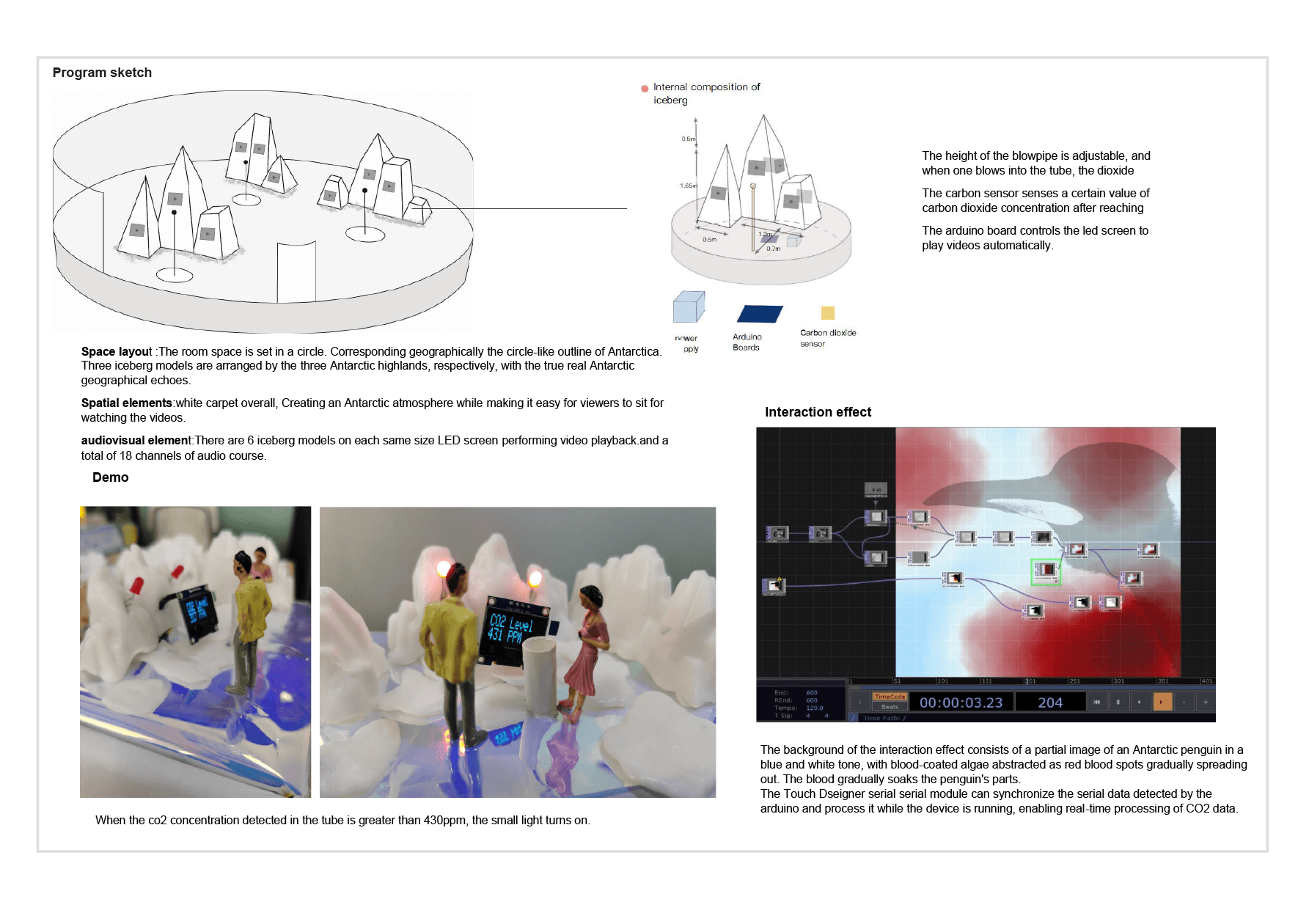 Commented by

Mr Naoaki Ueno, Manager of Next Generation Business Office, Toyota Motor Kyushu Co.
With an emphasis on sustainability and practicality, and from the perspective of how people can change their behavior, the project's theme was "A chance to learn and enjoy knowing that we do not want to emit CO2". We believe that empathizing with people and changing their behavior will be very important in achieving the SDGs. In this sense, we believe that Cao Hao's work will be an opportunity for people to empathize, have fun, and learn in an artistic way.
We selected this work because we believe that this proposal, in which we see the white world of Antarctica being dyed red by ice and snow algae, will make us realize how important it is to achieve carbon neutrality in our own lives.
PIETRO Award
e-CONTAINERS
Daigo Kobayashi
(Tsunan Secondary School)
e-CONTAINERS are more than just unique kitchen appliances. It's a home education product that helps people learn about clean energy, which will play a major role in achieving carbon neutrality. What is it that we need to do to become carbon neutral? Isn't it enough to have a good knowledge and understanding of the issues? However, simply learning is not interesting enough. Children, in particular, quickly lose interest in learning if it is not interesting. This is where food comes in. The target is mainly families with children. Food is closely connected to our daily lives and is often talked about at the dinner table. The idea focuses on respecting food and making it fun to learn. Two common containers, a rice bin and a Tupperware, are redesigned to store clean energy through kinetic energy and solar panels to produce electricity. Furthermore, they are made of nature-friendly bioplastic.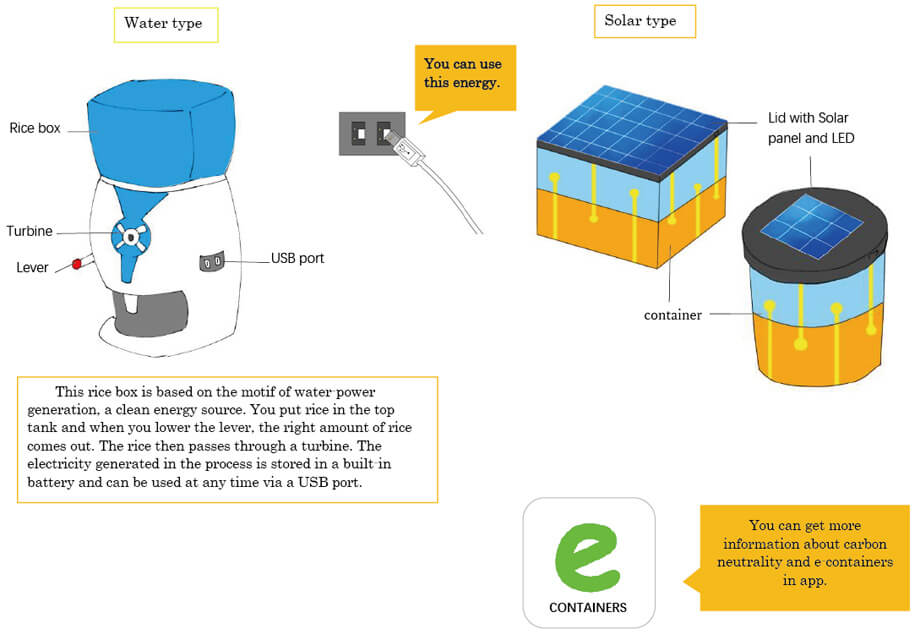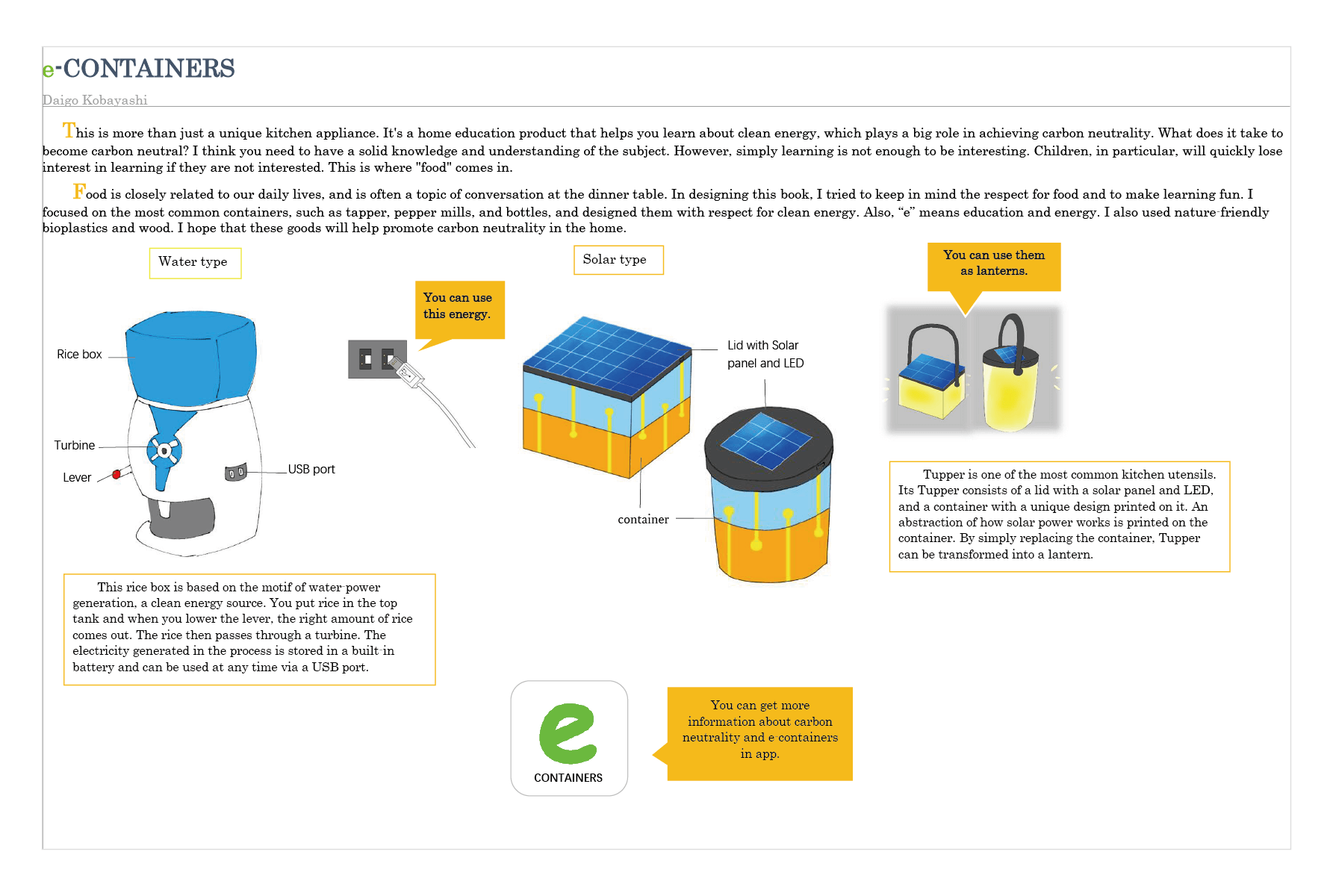 Commented by

Ms Sachiko Nagasaka,
SDGs project leader,
PIETRO
I looked at the submissions with a sense of confidence in the young generation, who have identified their issues and come up with initiatives that will help raise awareness of the SDGs.
All the proposals were interesting, and we had a hard time selecting the best. Among them, we selected Daigo Kobayashi's "eContainer" as the winner of the Pietro Award for the theme of "carbon-neutrality that can be done at home through food in a fun way". We felt that his proposal for household educational products that allows people to enjoy learning about carbon neutrality through food is a familiar lifestyle design that will help people, from small children to adults, realize carbon neutrality through the kitchen products they have at home.
Kyushu Construction Frontier Group Award
Bukit - Boutique Hotel
Chen Jia Yue
(University of Science Malaysia)
Bukit Mertajam is not a tourist attraction, nor is it the powerhouse of the nation. It is merely a town people pass-by, before entering the tourist haven, Pulau Penang. However, similar to the other more infamous heritage towns, it also possesses an interesting and unique past that the locals and foreigners discovered. Therefore, a landmark like Bukit is crucial to have in this sleepy heritage town to preserve the history of the town to the next generation and the rest of the world.
Bukit's core concept is to preserve and share the most authentic Malaysian/Penang flavours and traditions with its visitor. As a boutique hotel, it provides a 70's nostalgic Penang themed experience for the guests and a completely opened air ground floor for all to enjoy. Without the boundaries of walls and see-through glass doors conventionally used by hotels, everyone will feel welcomed to enter the hotel without discrimination of classes and race. With the provision of private spaces all placed from the 2nd floor upwards, and the semi-public spaces in the sub-basements. The entirety of the ground floor serves as a park that also provides a variety of activities for visitors and guests. The best street food vendors and local artisans are invited to set up their stalls on the green grass fields on the ground floors so that the guests and visitors can feed their tummies and eyes in the fresh open air. At the same time, festivities are also organized on the plaza hills, right at the centre of hotel towers, so that the guests can enjoy the performances and shows right outside their hotel rooms whilst being encouraged to converse with neighbouring guests. The visitors can also enjoy them on the ground floor.
Bukit strives to provide an artificial jungle that would serve as recreational purposes for the locals. It also hopes to be the first high rise building made of timber in Malaysia to reduce carbon footprint in the construction industry.
Commented by

Mr Mikio Nakamura, Managing Executive Officer, General Manager of Corporate Planning Department and General Manager of Public Relations and SDGs Promotion Office, Kyushu Construction Frontier Group.
We received many applications and innovative ideas from Japan and abroad, and although there were different opinions during the internal selection process, we finally selected "Bukit- Boutique Hotel".
The idea was to create a multi-story wooden building that is a sustainable material that aims to be carbon neutral. The lower levels of the building will be open to the community, creating a space that all can enjoy. The proposal's concept, which is also to create commercial value, was selected as the winning entry based on the perspective that it best fits the Kyushu Construction Frontier Group's direction. We hope that we will be able to create a community facility as cool as "Bukit- Boutique Hotel" one day in Kyushu.
Kyushu University Negative Emission Technology Award
Carbon Capture Bus
Zhang Zexin
(Kyushu University)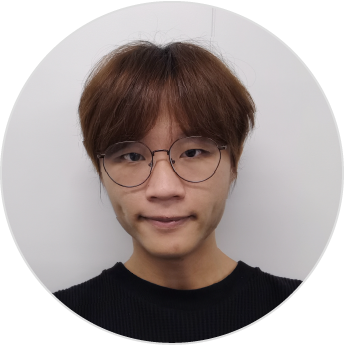 According to the Ministry of Land, Infrastructure, Transport and Tourism's survey on global warming countermeasures in the road sector, sector-derived CO₂ emissions from the transportation sector accounted for 17.1% of total domestic CO₂ emissions in 2013, ranking second. CO₂ emissions from automobiles accounted for about 86.4% of the total CO₂ emissions from the transportation sector. It is considered necessary to reduce the total CO₂ emissions from road space.
Through installing the DAC system in public transportation buses, CO₂ in the road space will enter the DAC system with the airflow while driving, be absorbed by the DAC system, liquefied, and stored in the vehicle body. At rest, the liquid collected will be collected by a reuse company and be turned into fuel, products, and other resources using CO₂ reuse technology. At the same time, the total CO₂ emissions of the general automobile sector will be reduced by supporting the promotion of the use of public transportation to reduce the total CO₂ emissions of the road space. The method is to return a profit to the bus users in the form of resources converted from CO₂. In addition, buses will provide users with information about the amount of CO₂ emitted while using the bus through the real-time visualization of the operation status of the DAC system and the display of carbon labels on public transportation tickets. The goal is to encourage people to use public transportation by transforming their transportation preferences into a more low-carbon means of transportation.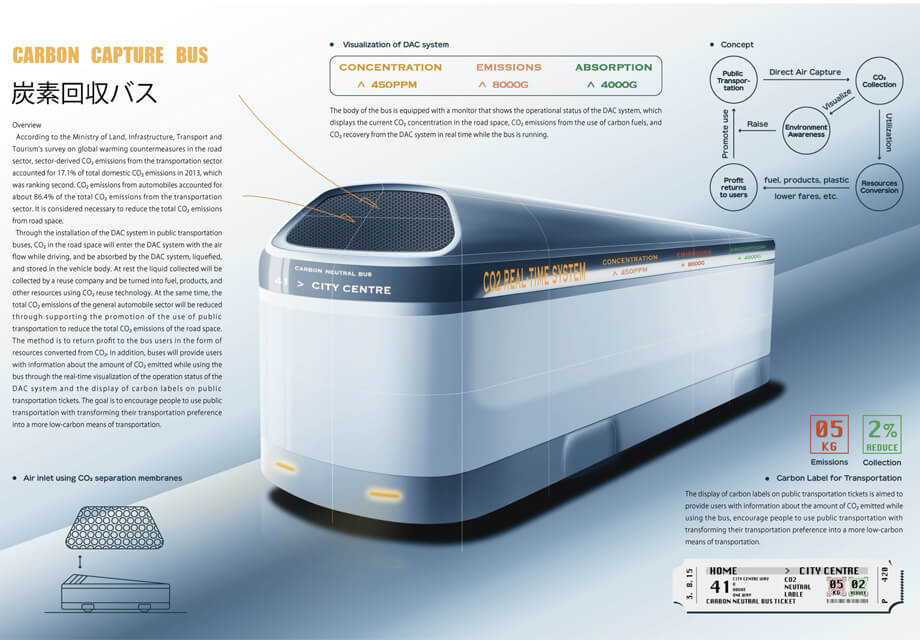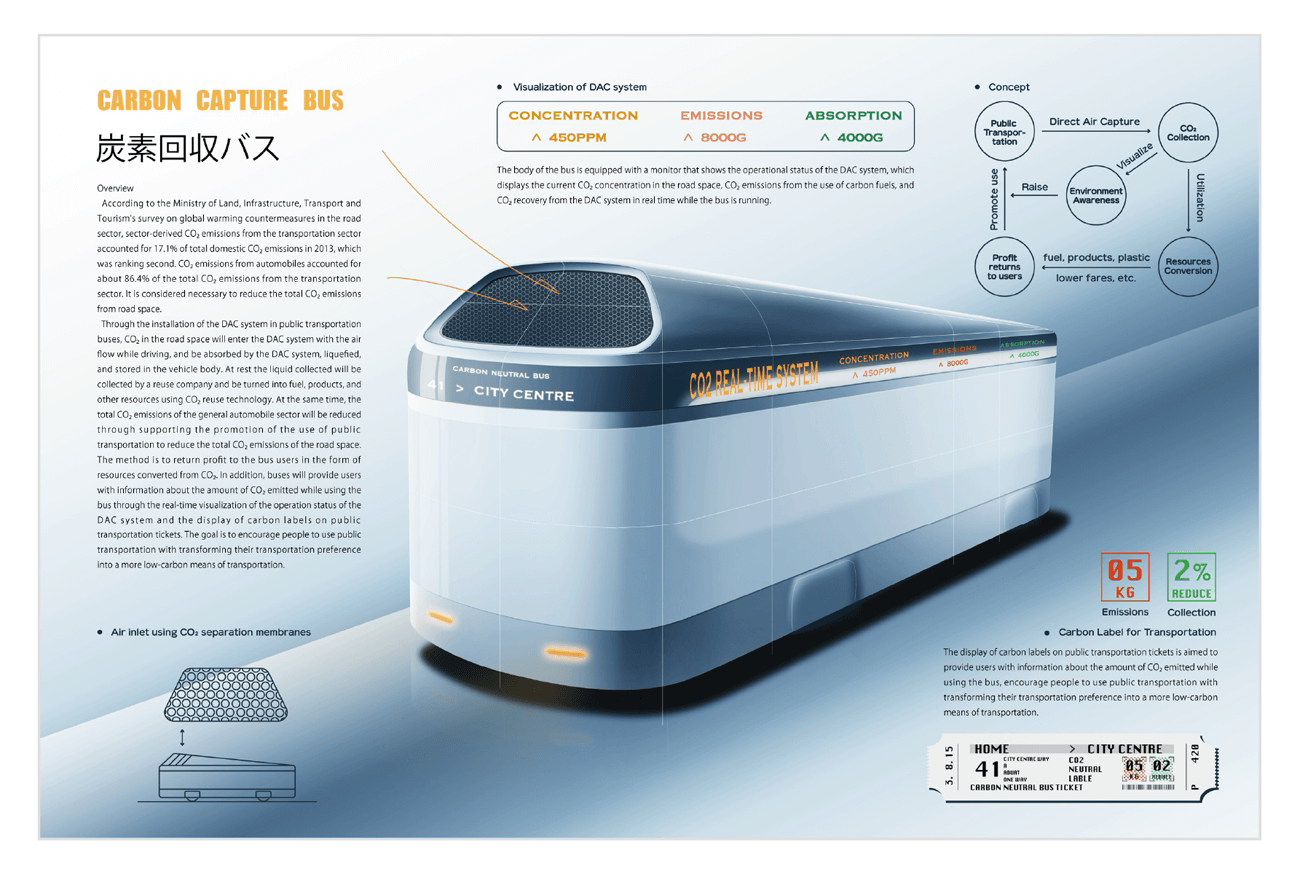 Commented by

Professor Shigenori FUJIKAWA, Kyushu University International Institute for Carbon-Neutral Energy Research, Center director of Kyushu University Research Center for Negative Emissions Technologies
There are two main reasons for selecting this proposal. The first is that the proposed design idea is a small, decentralized system. The fact that it is a mobile system that can capture CO2 appeals to the technology that we are developing, and it is a very symbolic approach to the realization of carbon neutrality. Especially in Fukuoka, there are a lot of buses running, so this will have a great social impact. However, if the buses are operated with the collected CO2 load, the gas mileage will be reduced. Hence, I hope this issue will continue to be considered in the future. Another reason for the selection is that the bus ticket will show how much carbon dioxide is being emitted. Since people will be able to check the amount of carbon dioxide emission reduction every time they board the bus, they will be motivated to reduce their CO2 emissions. We believe that this proposal will lead to social implementation and promotion of awareness.
Special Award for High School Students
Saving Lamp
Yuina KOMATSU,Shiho UEMURA,Fuka HIRATA, and Nanako GODA
(Fukusho High School)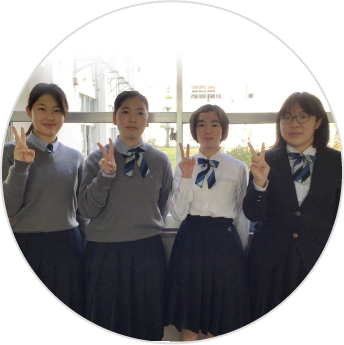 The goal is to reduce co2 emissions from households by reducing gas and electricity consumption, as well as reduce the expenditure of money in the household. The target is families with children. Children may unconsciously use too much water. The utility services can all be linked to an app for families to monitor their consumption. The app can also display a graph of the utility consumption throughout the year to compare it to the previous year, which will motivate them to save more. Even if they don't use the app to check on the consumption, they can easily see how much they have used this month by looking at the different lights indicators on the water tap and gas unit to control their usage. Hence, even if they are too lazy to open the app to check, they can still save money.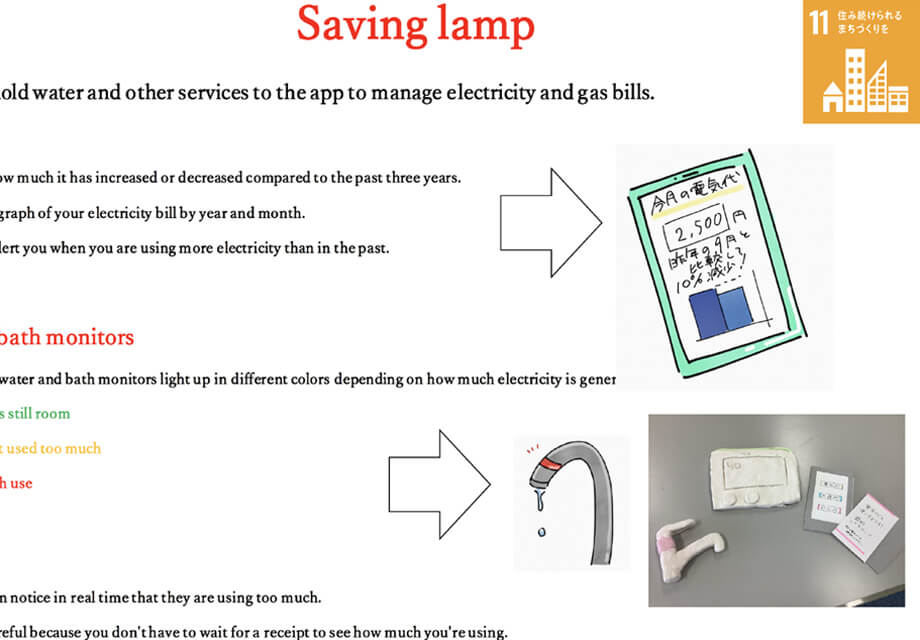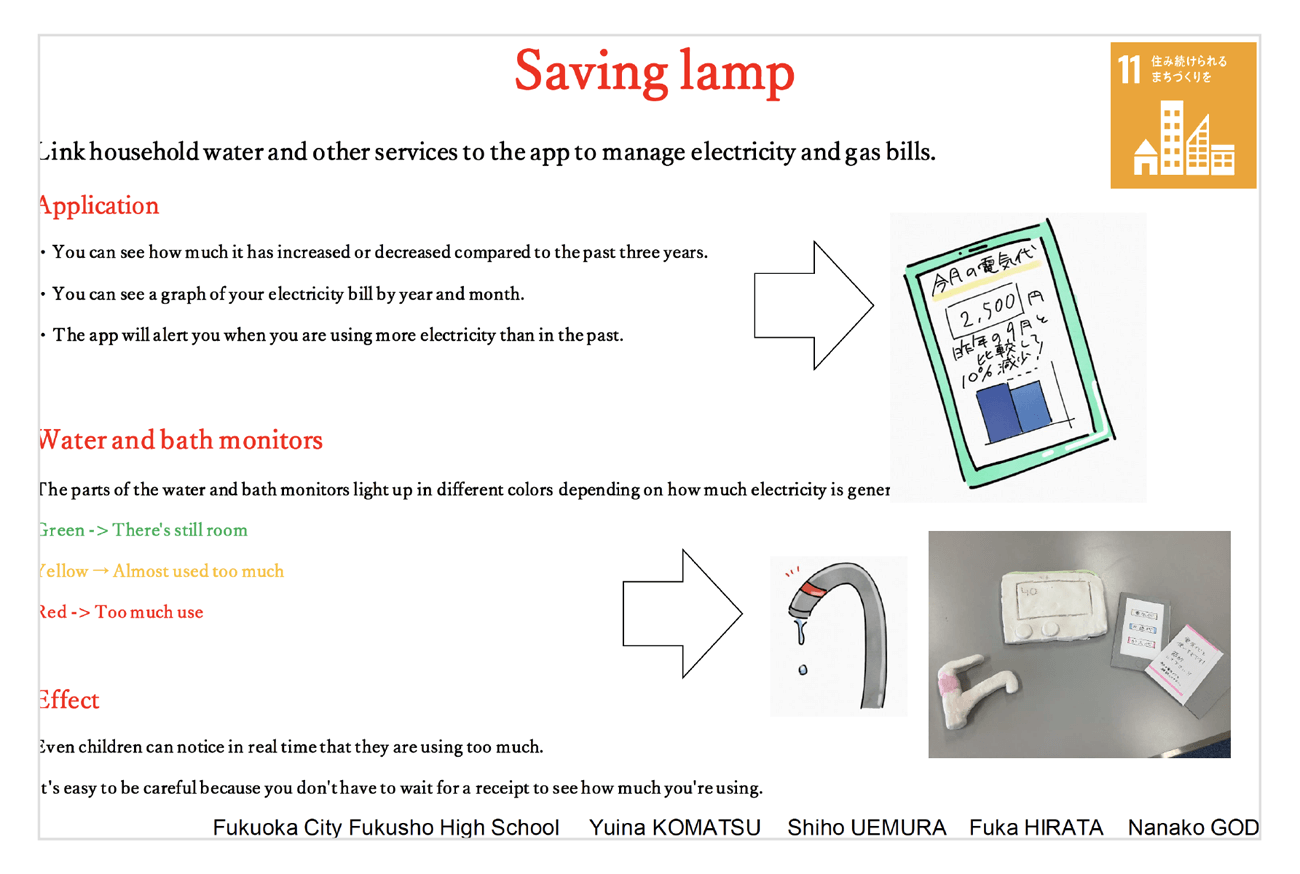 Commented by

Associate Professor
Minako Ikeda, Jury Chair,
Kyushu University
While there is a conspicuous tendency to use smartphone apps first to solve problems, this proposal is good because it makes it possible to read information from the physical objects that people use daily. By informing people of their energy usage in a timely and enjoyable manner in the natural flow of their activities, rather than having an app intervene between people and things, users will be able to grasp the situation more intuitively and review their lives naturally. There is much room for improvement in the form, but I have high hopes for realizing the ideas based on practical sense.