SDGs Design
International Awards 2019​
 The SDGs Design International Awards 2019 received 223 applications from 88 universities in 14 countries and regions around the world. The final presentation and awards ceremony of the SDGs Design International Awards 2019 was held on March 14, 2020. Due to the widespread of the new coronavirus globally, travelling to Japan for the foreign judges and finalists was not advisable. Hence, the event took place via an online platform which turned out very well with all the five finalists and the corporate grant winner presented their proposals in 6 different locations around the world.​
 On the day of the award, after the presentation, the following awards have been decided after a strict examination.
Designs to counter
damage caused by natural disasters
In Japan, natural disasters such as flooding, storm surges, and landslides caused by typhoons and heavy rainfall happen frequently. Of course, these disasters also occur in many other parts of the world. This shared global concern means we need to take action. We welcome designs that lead to measures to counter damage caused by such natural disasters.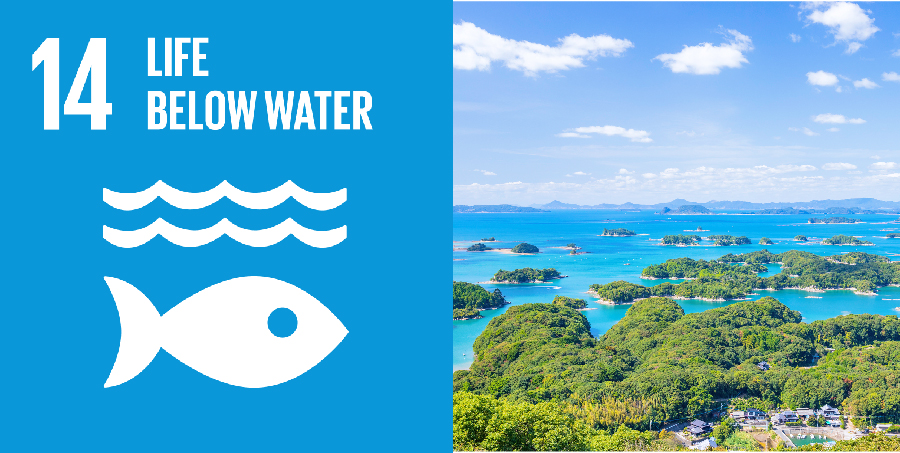 Designs to protect
the oceans' abundance and beauty
The world's oceans are connected. When the ocean near us is polluted, it spreads to the other side of the planet. Amid pollution of our oceans and damage to fisheries from plastic debris and red tides, we're seeking designs that will protect our oceans' abundance and beauty, and the bountiful resources they bestow on us.
Designs for human
coexistence beyond nationality, ethnicity, or age
Diversity and active social participation of women and older people are essential for vitalizing future society, no matter where in the world we are. Regardless of age, gender, disability, race, ethnicity, economic status, or any other such classification, we're seeking designs that encourage a safe, equitable, and joyful society we can all share.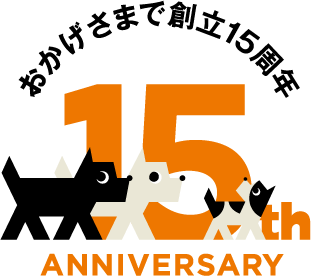 Theme
Designing new bank storefronts
for the cashless era
Research subsidy
200,000 yen
| | | | |
| --- | --- | --- | --- |
| | Grand Prize | 1 group: | ¥300,000 |
| | Second Prize | 1 group: | ¥200,000 |
| | Third Prize | 1 group: | ¥100,000 |
| | Special Encouragement Award | 2 groups: | ¥50,000 |
[ Head Judge ]

Yasuyuki Hirai

Professor, Faculty of Design, Kyushu University

(Photograph © by Kawamoto Seiya)

[ Judge ]

Hua Dong

Professor, Design School, Loughborough University (UK)

[ Judge ]

Kimitaka Kato

Executive Director, Japan Institute of Design Promotion

[ Judge ]

Clare Brass

Director, Department 22

[ Judge ]

Kazufumi Nagai

President, Hakuhodo Design
Grand Prize
EXTENDED ISLAND
Ecological restoration strategy of sea reclamation area based on laver
interplanting floating island system
A leader:Tang Zhongyu
Zheng Qingqing, Xu Mengting, Zhang Qing and Miao Wenqi
Zhejiang A&F University
Since the 20th century, with the further acceleration of urbanization, industrialization, and population agglomeration, land resources have become increasingly tight, especially in coastal areas. When urban construction land is difficult to meet the needs of urban development, sea reclamation projects have emerged as the times require. The expanding sea reclamation project has caused serious marine ecological problems such as seawater pollution and tidal flat habitat destruction, and human beings will eventually bear the consequences. The design focuses on the challenges facing Chinese island—Niyu island that have been engaged in reclamation for more than 20 years. Starting from the existing laver cultivation industry on Niyu Island, the design attempts to conceive an ecological restoration strategy of sea reclamation area based on laver interplanting floating island system to achieve the goals of purifying seawater, recovering intertidal zone and developing sustainable industries. We hope it would not only alleviate those ecological problems caused by sea reclamation, but also promote the coordinated development of social, economic and environment in Niyu island. Sustainable development needs the pursues of generations. Nobody may we be, we are still trying to make something for our mutual beautiful world.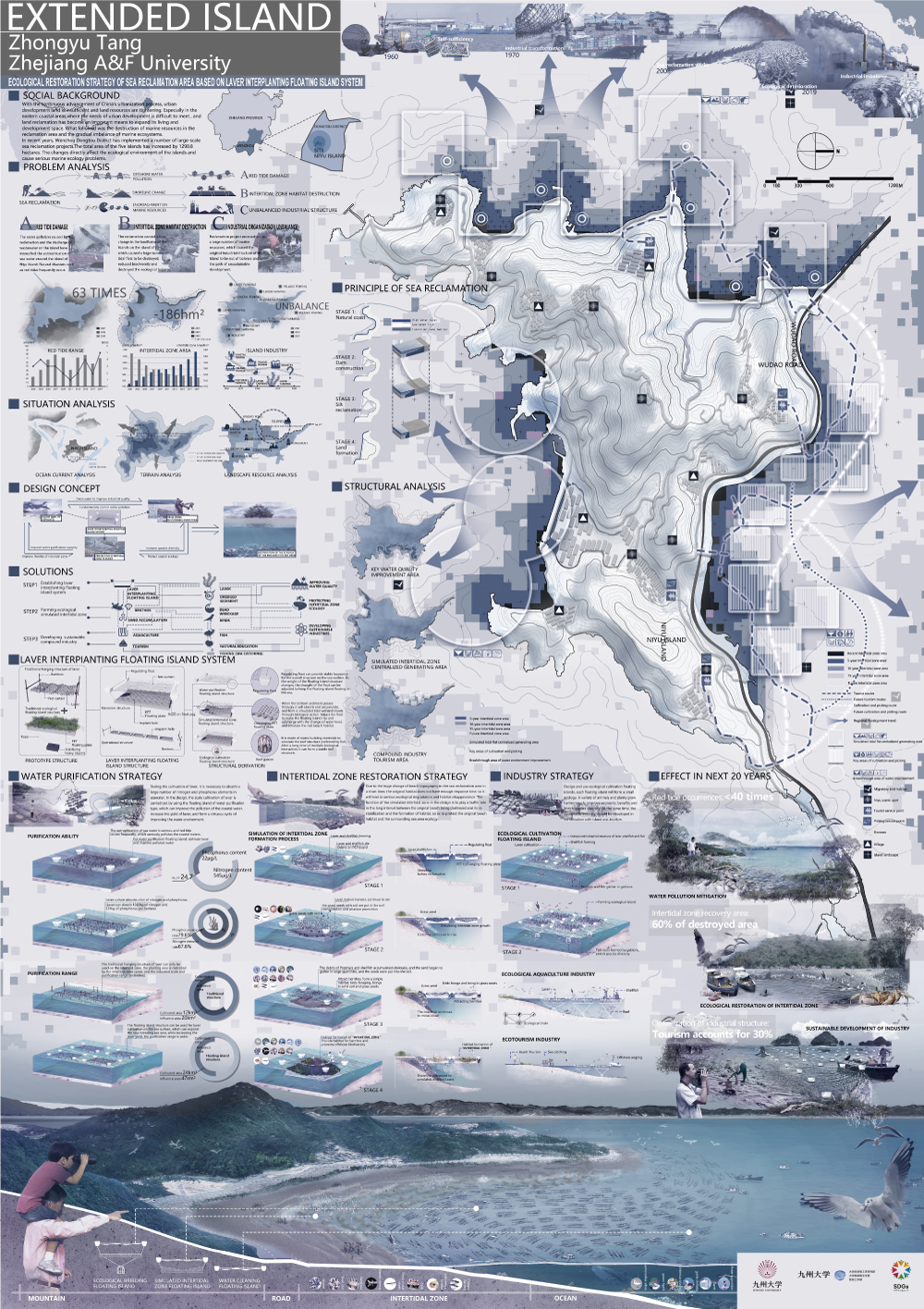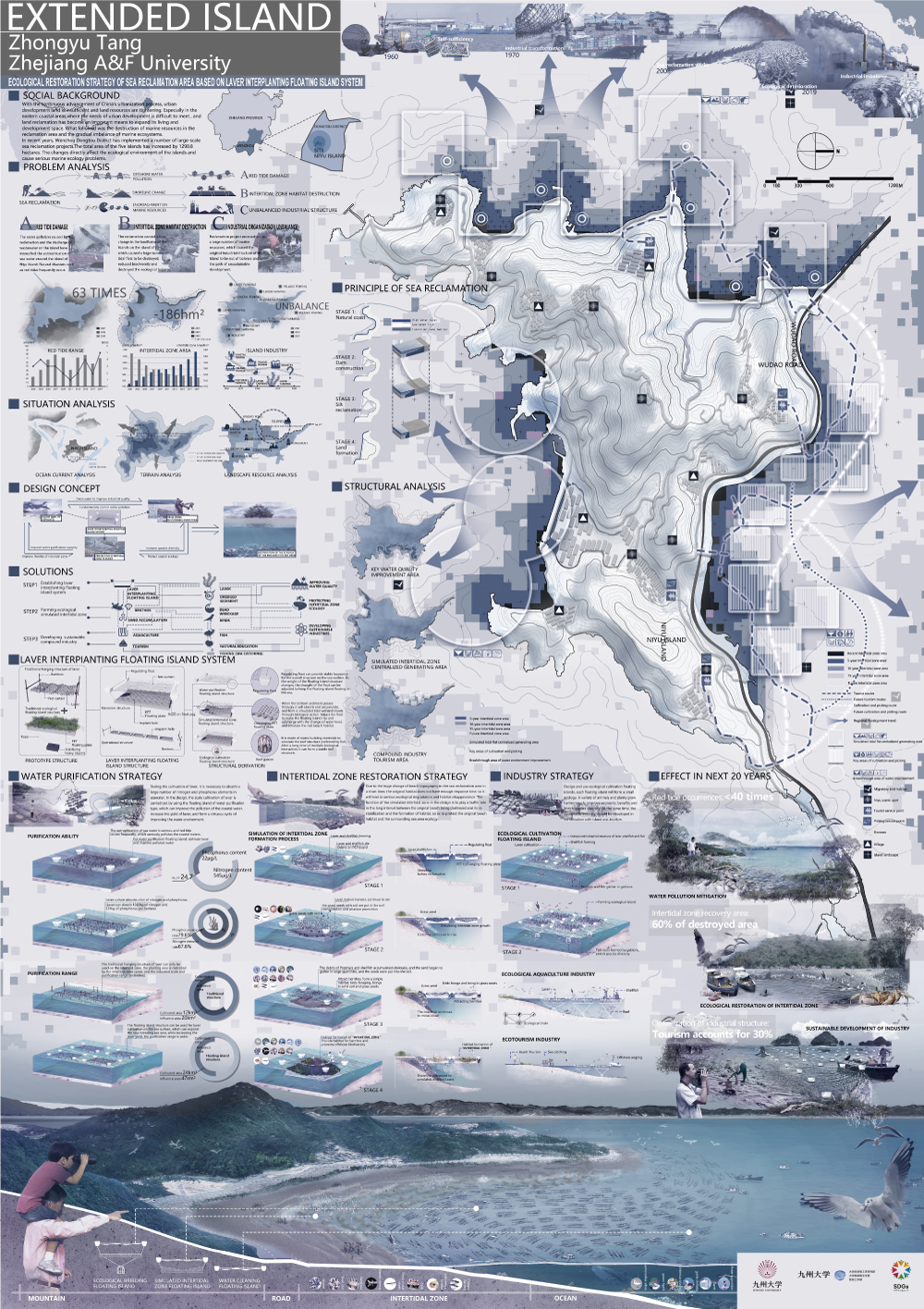 We recognized the point that the design has the potential to create new value by integrating natural and social solutions and that the design was sustainable with the participation of local communities on top of simply protecting the nearby sea. We also appreciate that we can feel the expansion from human-centered design to life-centered design.
Second Prize
THE MOBILE FOOTBATH
A leader:Ito Mayumi / Tokyo Institute of Technology
Yosuke Moriyama / Kyushu University
Jinwook Hwang / Aalto University
THE MOBILE FOOTBATH is a device that accesses the diversity in cities, connects, and creates social inclusion.We hardly have opportunities to interact beyond a small group of people with similar attributes and interests. Around the footbath, it is strange but we can naturally have dialogues beyond such a small group. At actual events, the mobility of this footbath brought each person the feeling of being a member of a diverse society and a relaxed feeling to every corner of the city, making us feel social inclusion.
A wide range of people do not necessarily have peaceful relationships, and the promotion of mutual understanding is required. We valued the design because it connects persons with persons closely not by words but by actions. Although it is a Japanese-style idea, we look forward to its contribution to cross-cultural exchange not only in Japan but overseas.
Third Prize
Capricious Growth,
Tenacious Growth
Sustainable construction and dynamic
design of coastline landscape
based on traditional wisdom of
"Oyster solid foundation"
A leader:Fu Yifan
Cheng Qiuyi, Zhao Yehua, Li Pengpeng and Zhou Yadi
Zhejiang A&F University
In recent years, the ancient fishing village of Acanthus ilicifolius suffered from the threat of typhoon and wave erosion. Our team learned from the ancient method, studied the secret that Luoyang Bridge in Quanzhou has not falling down for thousands of years, ingeniously transformed the strategy of "Oyster solid foundation", and integrated the survival wisdom of Hui'an women's coast, "cutting bamboo cutting and sharpening", and took "Oyster solid foundation" with "cutting bamboo cutting and sharpening" as the tough restoration strategy, so that the ancient can truly serve the present. Oysters, as a biological strategy, play an important role in the ecological, survival and production dimensions of fishing villages. We use ancient methods to solve new problems. Chinese traditional wisdom contains infinite mysteries of the world. "Planting oysters to strengthen the foundation" will effectively solve the problems of poor ecological resilience, survival threat and imbalance of economic industry in the ancient fishing village of Leshan, so as to build the ecological resilience, disaster prevention resilience and social resilience of the fishing village. As a link, oyster connects the harmony between human and nature, and also continues the beauty of wisdom, landscape and humanity in beautiful China.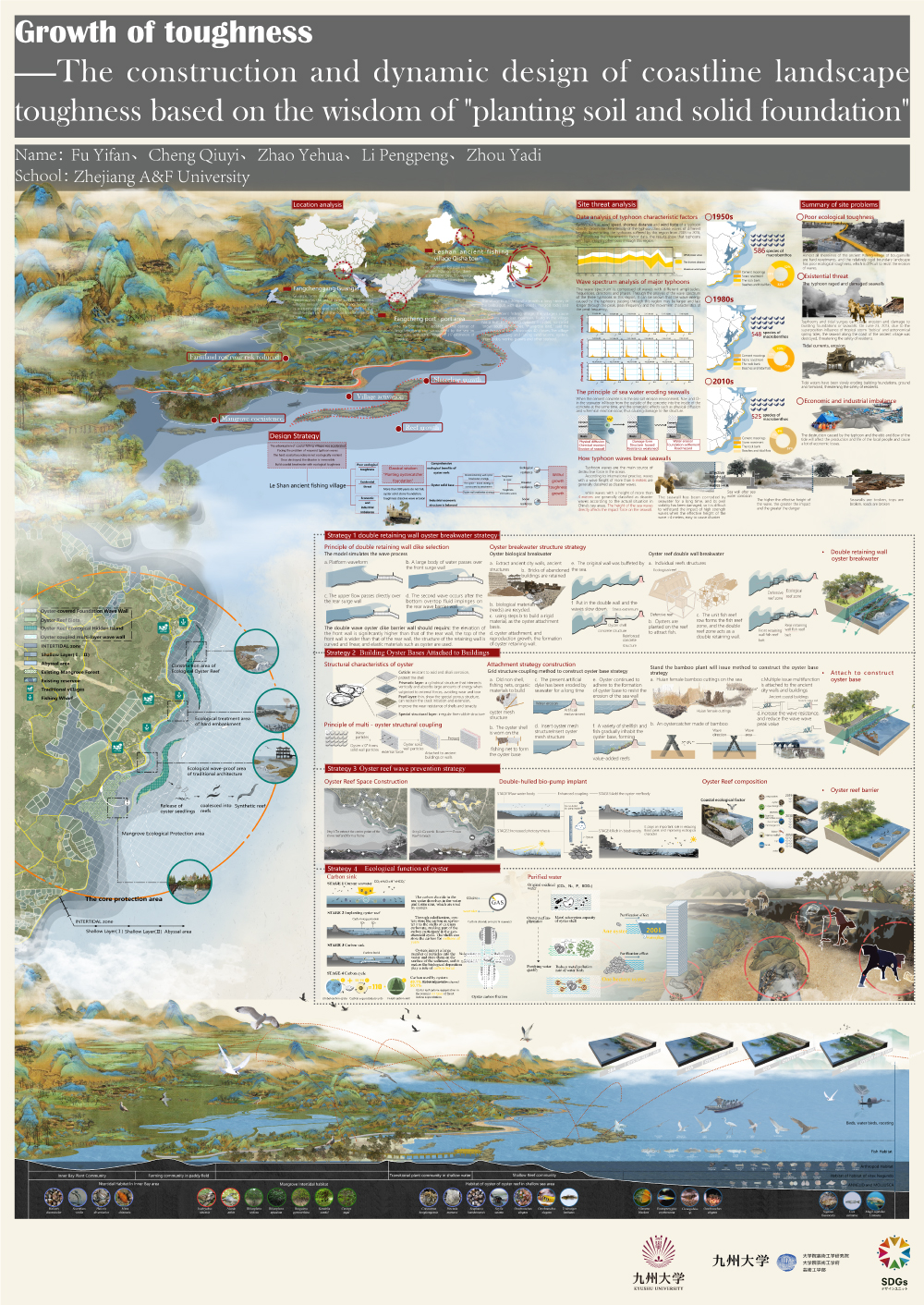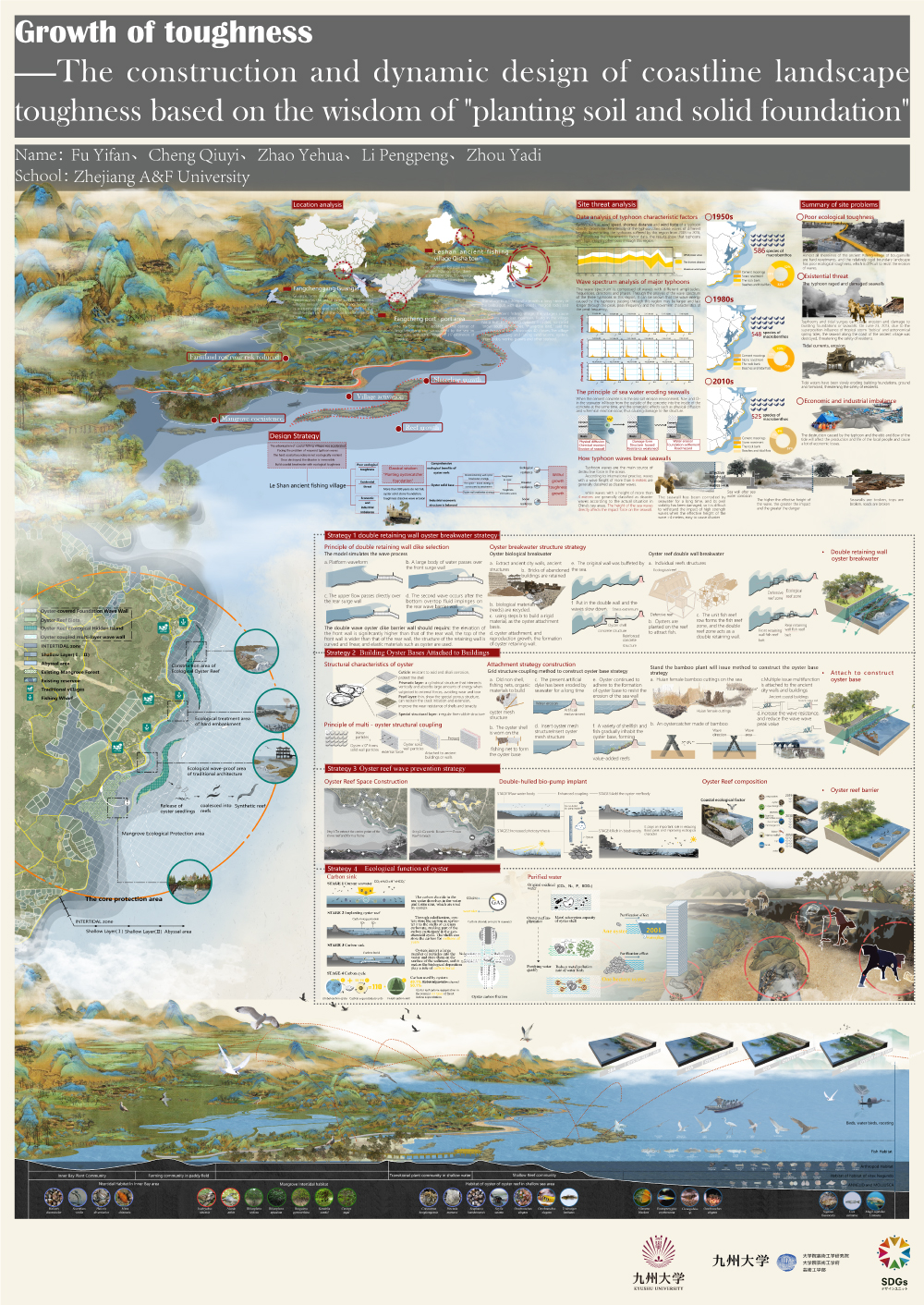 We recognized that the use of oyster shells contributes to sustainable coastal landscape conservation. It is important to change the conventional ways of thinking centered on artificial construction, and the design makes us reconsider the trade-off between such changes and safety/security and the changes in the relationship with nature.
Special Encouragement Award
baby cocoon
Protecting infants in disasters
and everyday life
Lilith Reiß
University of Applied Sciences Darmstadt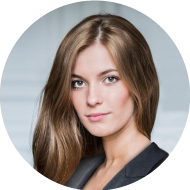 In accidents or disasters, you need help and support. But especially infants are dependent and should not be separated from their parents. To ensure special protection it was my request, to create protection for infants. It gives the parents the opportunity to preserve their newborns during the phases of movement or rest.
By supporting the diaper bag, the newborn slips into the ergonomically suitable sitting position.
The shell can be quickly and independently placed on the abdomen by one parent and provides sufficient arm agility.
This creates close physical contact between the infant and the parent. Direct communication is achieved by the foldable head protection, which also facilitates breastfeeding. The bowl can be used for changing diapers and as a baby cot in emergency shelters, too.
In addition, baby utensils and documents can be stored in the diaper bag and the colour-coordinated outer cover as well as the matching pacifier chain.
The design of the "baby cocoon" is influenced by the thought of the gesture of a snug embrace. It protects the infant the whole time and reminds of the security in the womb. The "baby cocoon" reliably protects the child all around and with its practical and aesthetic design it can also be used in everyday life.
It was designed to prepare for evacuation seamlessly through preparation in daily life, and we recognize that solutions to emergencies in both human environments and natural environments were considered in terms of factors ranging from behavior during evacuation to life in shelters. We hope that such designs will become common not just as products but also as designs that protect various people.
TOMODACHI CONNECTION
A leader:Tanaka Ryota
Chiaki Wakahara, Ryota Tanaka, Noriko Ogura and Ryotaro Haratake
Bangladesh Survey Team,
School of Design
Graduate School of Design,
Kyushu University
The theme is "a tool for visualizing friendships that connects Rohingya refugees and local residents." The design is to address interethnic problems at Rohingya refugee camps in Bangladesh. Starting from the characteristics of the local people, as summarized by the idea "If you know you have friends in common, you will be able to build friendships quickly," we created a tool that allows children to visually grasp friendships using name tags. We hope that the friendships between refugee children and local children will create opportunities for different ethnic groups to join hands.
We recognize that the team focused on children who are likely to be left behind in harsh environments such as refugee camps and that the design was made to create a community where people can get to know and help each other.
Corporation Grant Award
Kuttsuku Bank
A Form of Bank Office with New Value,
Connecting Banks, the Young Generation,
and Local Corporations by means of Café Style
Conversation as well as "Yatai" Design
Kimura Saaya
School of Interdisciplinary Science and Innovation
Kyushu University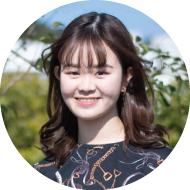 Kuttsuku Bank is a stall designed for networking between young people and people from banks and local businesses. The stalls can be used as places where people can talk as if they were in a cafe, matching young people who conduct industry research and people from banks / local businesses (also available to the public unless matching events are being held). Young people's recognition of it as a place where they can easily connect with companies can diversify the purposes for which they go to banks, and companies can expect to find highly motivated human resources who also understand local matters. Banks can also make it easier for young people to access various kinds of information such as loan information and can have opportunities to gain relationships that will last long after such young people find employment.
THE NISHI-NIPPON CITY BANK
Thank you for applying for the award. Out of a number of works, for the grant award, we selected the idea of a bank in the form of a stall, from which we can imagine an exciting bank in Fukuoka with a sense of community where various people and information are gathered and new businesses are born.